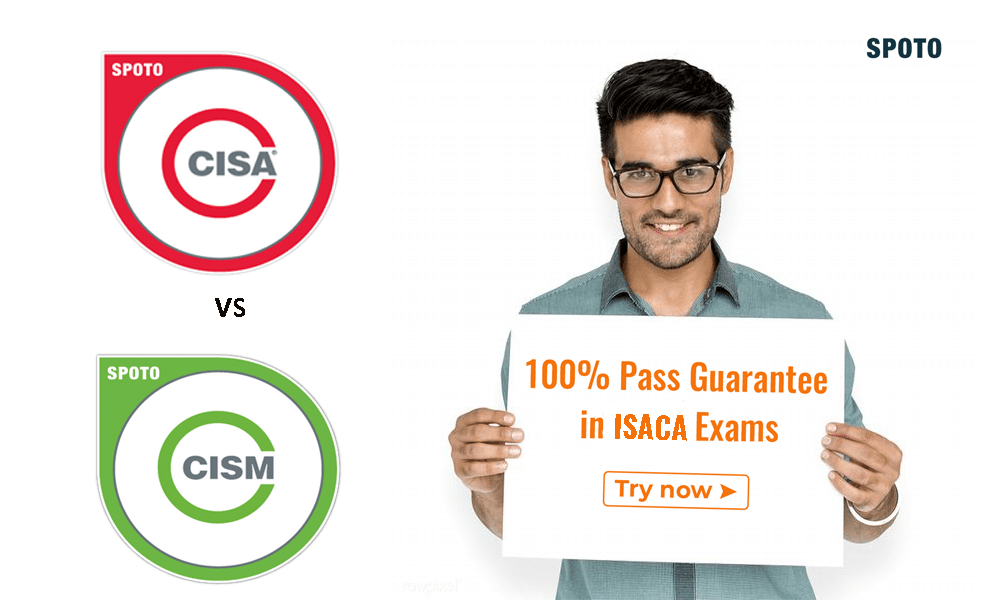 The Certified Information Security Manager (CISM) and Certified Information System Auditor (CISA) provided by ISACA are highly regarded information security certifications. Which is better for me? It all depends on your background and interests. Your experience will also affect your suitability for the exam. All these ISACA certifications are quite challenging. This article will focus on the differences between CISA VS CISM in the exam domain, requirements, job, and salary.
| Categories | Exam Code | 100% Pass Dumps |
| --- | --- | --- |
| ISACA | CISA | |
| | CISM | |
| | CISA/CISM/CRISC proxy service | |
Also, SPOTO Black Friday Sale comes now! Get the lowest price of SPOTO 100% real CISA/CISM dumps for a single success!

What is the difference between CISM and CISSP?
Which certification best matches your career goals? Compare CISM, CISSP and CISA to help make an informed decision.
CISM VS CISSP
At an overarching level, it is important to recognize that both CISSP and CISM certifications address IT security; however, their overall approaches vary considerably.
CISSP certification provides knowledge to create an enterprise-wide information security program that meets business objectives. The certification includes designing, managing and assessing information security systems from an architectural viewpoint; also covering access control systems, cryptography technologies, application development security practices, mobile device management risk management approaches and incident response procedures etc.
On the other hand, CISM focuses on information security management – from aligning technology solutions with business objectives to planning and leading complex projects across departments or organizations. To become certified candidates must demonstrate expertise in managing people and processes related to governance functions of information security such as risk assessments & mitigation strategies & technologies; compliance audit activities; incident management and disaster recovery operations; legal aspects of data protection; strategic planning & budgeting activities and stakeholder relations and communications.
CISM vs. CISA
CISA certification  (Information systems audit) recognizes the experience of auditing "professionals" to "assess IS vulnerabilities, report compliance, and establish control measures within the company."
CISM certification is for professionals in management, design, supervision, and evaluation of "enterprise information security."
When compared with its counterparts – CISSP and CISM certifications, Certified Information Systems Auditor (CISA) certification focuses more on auditing individual IT systems rather than taking an overall view of providing secure operations across organizations as CISM/CISSP do. Passing this exam requires having a solid knowledge of auditing principles as well as familiarity with general concepts relating to system vulnerabilities and threats associated with IT infrastructure design and architecture. This certification equips holders with skills for formulating audit recommendations based on results of audit procedures conducted to assist organizations identify risks or non-conformance issues within their system infrastructure; assessing existing strategies for controlling access rights; analyzing processes used for system performance assessment; conducting reviews of third-party vendors used by companies and ascertaining their compliance with regulatory requirements etc..
Which Certification Is Right for Me?
Ascertaining whether or not CISSP, CISM or CISA certification fits best into your career development journey is dependent on many variables such as personal goals/needs/background. If you're seeking to take on roles that involve designing secure operations across organizational networks, CISSP may be suitable. On the other hand, if your interests lie more with governance activities within organizations then CISM would be an appropriate choice for you. Alternatively, if auditing is specifically on your mind, acquiring the necessary skills through passing an audit exam should equip you well for such roles and provide additional credibility when competing against those without this credential!
Domain comparison
The understanding of CISA and CISM in this field focuses on information security, but there is a crucial difference. CISM is a certification to ensure "enterprise" information security, while CISA professionals ensure information security control.
This is a quick comparison of the two.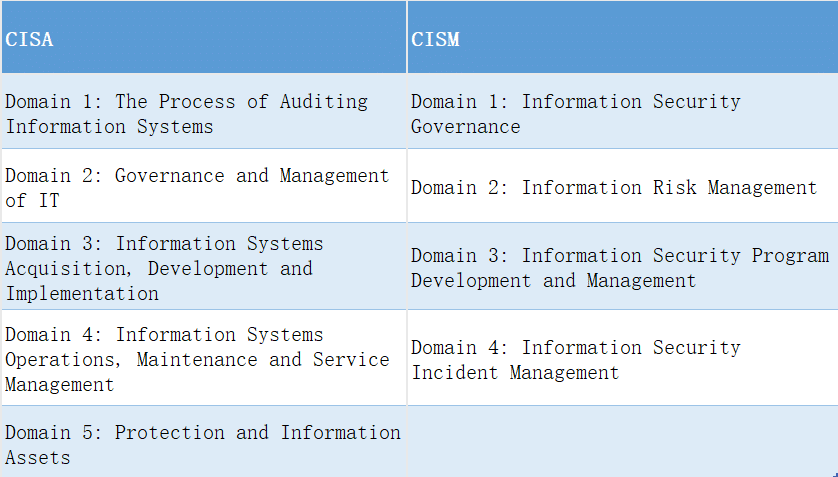 Salary Comparison 
According to PayScale's data, the average annual income of CISA certification is  $102,752 per year. Whereas, the yearly income of CISM professionals is $126,089.
Job

Comparison & careers paths
The job descriptions of CISA holders usually focus on IT audits, controls, regulatory compliance, and extensive IT infrastructure audits. On the other hand, most CISM job descriptions involve information security management, business continuity planning, disaster recovery planning, information security risk analysis, and business impact analysis.
The best way to understand the differences and similarities between CISA and CISM is to read the working practice areas of the two certifications published on the ISACA website. CISA has five work practice areas, while CISM has four work practice areas.
The main job difference between CISA and CISM is that one is designed for IT audit professionals, and the other is for managers of information security professionals.
Exam Requirements Comparison
CISA certification exam requirements
To take the CISA certification exam, applicants must have at least five years of professional work experience auditing, controlling, or protecting information systems. There are also some alternatives.
The CISA learning process may include taking CISA review courses, registering for online courses or using software, reviewing manuals, and study guides. After certification, the certified CISA is also required to comply with information security standards.
CISM certification exam requirements
It is recommended that the candidate follow the ISACA syllabus guidelines before taking the CISM exam. He/she needs to register for the certification exam online and have at least five years of experience in the information security field. CISM also requires five years of professional experience.
ISACA reports that approximately 46,000 professionals have obtained CISM certification, while 151,000 professionals have obtained CISA certification.
If you plan to get CISA or CISM, please pay attention to your profession when choosing the appropriate certification. For example, hold a position as a network administrator, system administrator, or similar field and develop your career in information security management. CISM will be more useful to ensure leadership. However, if you are engaged in auditing, regulatory compliance, and assurance, or want to develop your career in the IT auditing field, CISA is more suitable.
It is recommended that professionals in a leading position in the IT field take care of both. These certifications can help them understand the two areas well and establish the knowledge authority required for that level.
Which is better for me? CISM or CISA?
If you want to acquire the knowledge and skills to manage and adapt to enterprise security technology, then CISM is for you. This certificate for aspiring information security managers, IS consultants, IT consultants, and senior directors proves that you can develop and manage information security plans.
If you are currently engaged in or want to be certified in auditing, controlling, monitoring, and evaluating information technology and business systems, then the certification that suits you is CISA. It is designed for information security and IT auditors, consultants, audit managers, and non-IT auditors. 
Besides, the CISSP certification is also a trended certification in the cybersecurity industry.
Get CISM & CISA Certified Quickly with SPOTO!
As a leading IT training institute for 17 years, SPOTO offers both CISM and CISA exam dumps covering real CISA, CISM exam questions, and answers. All you need to do is practice the mock tests for 3-5 days. If you make no mistakes on the practice tests, you are encouraged to take the real exam! SPOTO CISA and CISM practice exams have helped thousands of candidates to get CISA & CISM certified on the first try!
In less than a week, you can improve your career prospects through SPOTO 100% real CISA & CISM dumps! 

Latest passing report-100% pass guarantee
Recommend CISA & CISM exam study materials:
Please follow and like us: