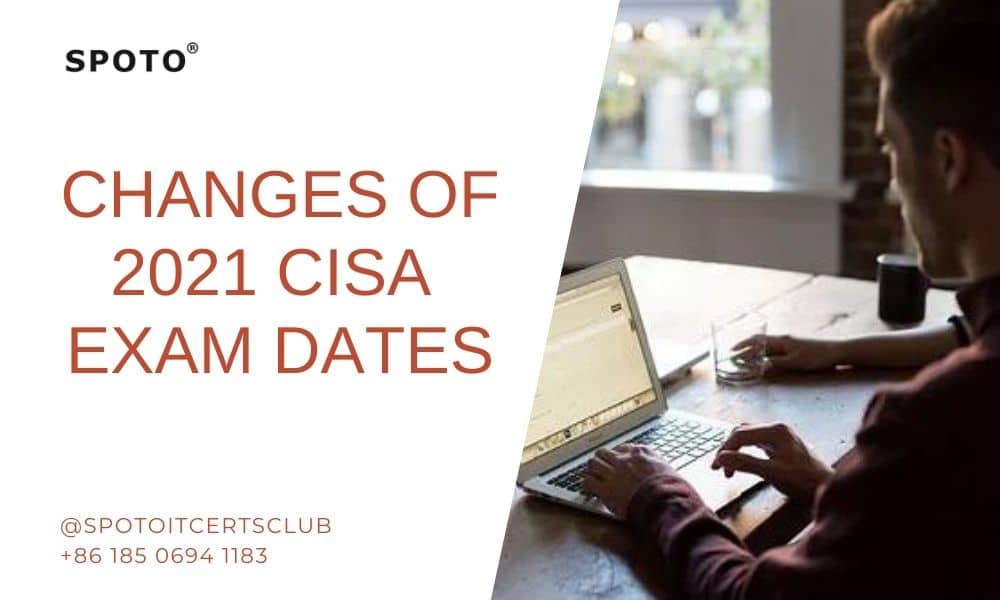 Previously, the CISA test was held three times a year. You may now take this exam at any time owing to online registration and proctoring. That's right: you may schedule your CISA exam dates for 2023 whenever you want! There's no need to be concerned about missing a testing window; however, if you wish to take the exam in person, registration dates are still crucial. In this post, I'll explain how the CISA exam dates for 2023 will operate, as well as any other information you need to know regarding registering for and taking the CISA exam.
| Categories | Exam Code | 100% Pass Dumps |
| --- | --- | --- |
| ISACA | CISA | |
| | CISM | |
| | CISA/CISM/CRISC proxy service | |
Dates for CISA Exams in 2023
Since the new test was introduced in 2016, the exam schedule has become more flexible; however, the exam cost has increased significantly. This is something to keep in mind while scheduling your exam. At the very least, you won't have to deal with registration windows. Instead, after you've registered, you can choose any time during the following 365 days to take your exam. According to the website of ICASA:
Candidates are able to schedule their exam for any available date/time/location within their 365-day eligibility period. When scheduling an exam, candidates must select either online remote proctoring or an in-person testing center. Candidates who are unable to take their exam on their scheduled date are able to reschedule during their eligibility period if completed more than 48 hours prior to the original scheduled testing appointment.
This means you must still choose a day and time for the exam, but it does not have to fall within a specific time frame. Furthermore, if you need to reschedule, you can do so without charge if you do so more than two full days ahead of time.
If you want to take the test in person, you can do so during the booking process. After you enter your location, the website will show you which days and hours are available. PSI Online, the testing company's website, allows you to seek specific days, times, and places. Simply choose your CISA exam and location.
Can you take the CISA exam many times?
Fortunately, the extended testing dates imply more exam opportunities. The "testing window" is currently the 12 months after your registration, during which you may take the exam up to four times. This covers your first try as well as three further attempts. Be careful, though, that you must wait a set length of time between each retake.
The second try must take place at least 30 days following the first.
The third try must take place at least 60 days following the first.
The fourth try must take place at least 90 days following the first.
If you fail your first attempt at the CISA test on January 15, for example, you won't be able to retake it until February 14. If you fail, you won't be able to retake the exam until March 16, and you won't be able to make a final attempt until April 15. Furthermore, each exam attempt necessitates the purchase of new exam registration.
There are no restrictions on how many times you may take the test in general; the only limitation is how many times you can take it within each registration session (four times).
Exam Candidate Information Guide for ISACA Exams in 2023
You may use the official ISACA handbook, as well as the material on this page, to assist you.
The ISACA Exam Candidate Information Guide contains critical key candidate details for exam-day administration and information concerning exam registration and scheduling. I strongly advise all exam applicants to go over the information in this handbook to become familiar with the exam-day guidelines.
Requests to alter exam dates:
Rescheduling: must be done at least 48 hours before the scheduled exam time. There will be no charges.
The exam cost is no longer refundable.
Changes to exam registration:
If you entered your name incorrectly when enrolling for the exam, please change your profile using the procedures below.
Please log in to ISACA.
After that, go to the My ISACA tab.
Go to my PROFILE > Account-Certification CPE-Demographic Info tab
To make changes, click the Edit button at the bottom of the profile.
Finally, click the Save button.
Please report any errors in the test type (CISA, CRISC, CISM, or CGEIT) to support.isaca.org as soon as possible.
All modifications must be made at least 48 hours before the planned exam.
How Does the CISA Exam Work?
You may have a few questions about how the CISA test procedure works now that you know the exam dates. Obtaining as much information as possible ahead of time can assist you in adequately preparing.
More than memorizing facts and statistics, the CISA test emphasizes experience. This is because it puts you to the test on the skills you'll need as a CISA. This is also why it is CPE-eligible.
The test covers the five domains, which are sectors or areas of competence into which work activities may fall. It's critical that you understand these concepts and how to make judgments as if you were in a real-life scenario.
The following are the job practice domains, task and knowledge statements:
—The Information System Auditing Process (21% )
—Information Technology Governance and Management (16%)
—Acquisition, Development, and Implementation of Information Systems (18%)
—Operations, Maintenance, and Service Management of Information Systems (20%)
—Information Asset Protection (25%)
The test covers each of these domains in job practice areas and other aspects of system security, audit, and control as they relate to CISA's work.
How long does the CISA exam take?
The exam takes four hours to complete on the day of the examination.If you want to take the exam in person at a testing facility, you should come early to provide time for parking, identifying yourself, and preparing for the exam's start time.
People often like to leave a few minutes extra at the end in case there is an after-exam survey. In all, you should budget four hours of testing time plus at least 30 minutes at the exam location.
What Is the Process for Applying for the CISA Exam?
On the ISACA website, you may apply or register to take the CISA examinations. They provide four helpful steps for writing for the CISA exam 2023 and scheduling your exam date.
Create an ICASA account immediately if you haven't previously. It will be required to register for the exam.
Use your account to log in and register to begin your 12-month testing period. Filling out your personal information and paying your registration fee are the first steps. To start the scheduling procedure, you must select "pay now."
After you've paid your registration fee, you'll get an email with a link to book your CISA exam. To get started, go to the website.
Select the "Certifications & CPE Management" tab from the "My ICASA Dashboard" page. Then scroll down until you find the tests for which you've enrolled, as well as a button to schedule the exam.
You must first determine whether you will take the exam at a testing facility or online. Make your choice and then click "Continue."
Search by date and place if you wish to take the exam at a testing facility. Testing center experiences differ, so choose the one that is appropriate for you.
You must still choose a day and time if you wish to take the exam online.
Regardless of which option you select, you will have the chance to evaluate your choice before final scheduling. After you've scheduled your test, you'll see a link that reads "System Compatibility Link" on the confirmation page.
Finally, if you choose the remote internet option, make sure your computer is compatible with the testing software. To ensure that you can take the exam on the computer you're using, click on it. If you can't, you'll need to find another computer or reschedule your exam for an in-person session.
What Is the Best Way to Take the CISA Exam?
It's time to register for and schedule your test once you've fully prepared and studied for it. When you register for the CISA test in 2023, you will do so as described above and pay the exam cost (explained below).
If you pick an in-person exam, you simply show up on the testing day, ready to start once you have properly enrolled and paid. You will have four hours to finish the test and be given pauses to use the restroom or drink water. If you select the remote online option, you will be given further instructions on accessing the exam on the scheduled day and time.
What is the CISA Exam's Scoring System?
The CISA test is graded on a 200-800 point scale by ISACA. To pass, you must have a score of at least 450. A scaled score is the result of converting a raw score to a standard scale. Some individuals are perplexed by this. You need to realize that it isn't based on a percentage, average, or arithmetic.
The CISM exam number of questions is 150, so a perfect score of 800 is a perfect score. This indicates that you correctly answered all 150 questions. The lowest possible scaled score is 200, meaning that just a tiny percentage of the exam questions were successfully answered.
According to the ISACA Certification Committee, a passing score of 450 or higher reflects a minimum consistent quality of knowledge. It indicates you've answered the bare minimum of questions to demonstrate that you have the necessary practical knowledge for the job.
You can apply for CISA certification if you have this passing score and fulfill the other conditions.
When Will Your CISA Exam 2023 Results Be Available?
After everything is said and done, you'll want to know how you fared on the exam. However, you will have to wait a bit longer to receive your CISA exam 2022 results. When you finish the exam, you'll see a preliminary pass/fail on the screen, so you'll know whether you passed.
On the other hand, you won't obtain the whole findings on-site. Instead, you must wait for an email within ten days following the exam to be sent to you. Make sure your email address is accurate on the day of the exam, so you don't lose out on your results. By phone or fax, ICASA will not reveal your test results.
Is it possible to take the CISA, CRISC, CISM, and CGEIT examinations simultaneously?
Yes, you may take the CISA, CRISC, CISM, and CGEIT all in the same year.
Where can I find proper testing locations?
Do you want to plan where to take your test? PSI is ISACA's testing vendor, and they alter their testing locations regularly. Exams are given at PSI testing centers all around the world.
They are attempting to expand the network to provide additional testing sites for candidates. This is just meant to be used as a guideline. If you live in a crowded area, keep in mind that test center availability is always first-come, first-served, so arrive early.
What Is the Cost of the CISA Exam in 2023?
If you want to take the CISA test this year, you'll need to know how much the CISA exam price will be in 2023. Because the costs of some of these tests may be relatively high, it's essential to know how much they'll cost you.
ICASA Member: US $575
Non-Member: US $760
You may register for a test, buy study materials, and join ISACA via the online registration procedure. As mentioned above, for the CISA test price, this membership will instantly give considerable exam-related reductions. You can pay online with a credit card or specify that payment will be made later by cheque or wire in the last step of the procedure.
The exam registration cost is not refundable or transferable.
How to apply for CISA certification?
What is the procedure for obtaining CISA certification after passing the CISA exam? The most challenging portion is completed! You can exhale a sigh of relief once you've finished the exam.
All of your studying, exam preparation, and even costs are now behind you. If you passed, you'd need to fill out an application to receive your actual certification.
You can fill out this certification application and submit it with the appropriate documentation once you have completed the CISA exam. The certification costs $50 and must be paid at the time of application.
What are the requirements for obtaining the CISA credential?
Individuals who satisfy the following criteria and have an interest in information systems auditing, control, and security are given the CISA designation:
Pass the CISA test with a passing score.
Keep the ISACA Code of Professional Ethics in mind.
Commit to following the CISA Policy on Continuing Professional Education.
Obtain a minimum of 5 years of professional experience in information systems auditing, control, or security (as described in the job practice areas). If certain education and general IS or audit experience criteria are satisfied, substitutions and waivers of such experience may be acquired.
Observe Information Systems Auditing Guidelines
Dates of the CISA Exam in 2023 Conclusions
Now that you've learned everything there is to know about the CISA test, and you're ready to take it. You'll be able to make an educated decision regarding testing, enrolling for the exam, and obtaining your CISA certification. I realize how daunting it may be, especially if this is your first time.
The information in this post will assist you in better understanding the entire procedure. You may take the CISA test with confidence, knowing that you'll obtain your appropriate certification afterward. Do you have any questions that you haven't found answer here?
Let us know what you think: ↓click to join our IT Study Group.↓


Latest passing report-100% pass guarantee
Related ISACA Articles
How to study the ISACA CISA Exam Easily?
Please follow and like us: