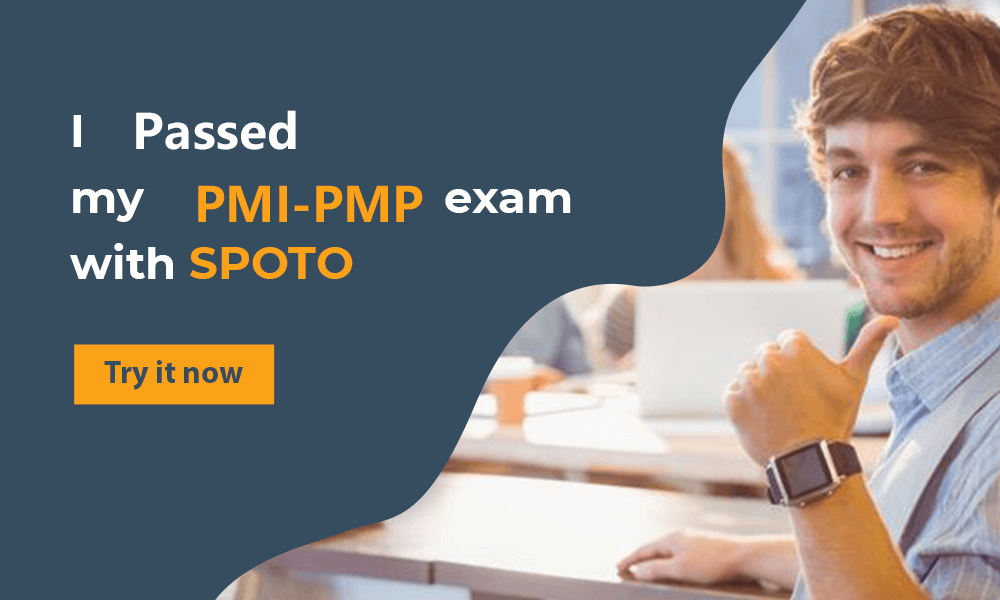 SPOTO free PMP exam demo is a great way to evaluate your skills in the latest project management practices. This PMP demo contains free exam questions similar to the questions you can encounter in the PMP certification exam. This test is a great stepping stone for the all-important PMP certification exam. So, why wait? Take the free PMP practice exam for free!
Categories
Exam Code
100% Pass Dumps
PMI
PMP
RMP
CAPM
PgMP
ACP
PMP proxy service
PMI-ACP proxy service
PMI-PBA proxy service
PMP Questions #1
During the quality testing of the new software integration project, the results show performance variance from the Quality management plan. Thus, the project manager asked the quality team to investigate the root cause of the variance and resolve it to get back on track. What type of action did the project manager make the project manager request?
a. Corrective action
b. Preventive action
c. Defect repair
d. All of the above
Answer: a
PMP Questions #2
During the project kick-off meeting, two project team members disagreed whether to include a specific test within testing scenarios for the new product or not. As the project manager for this new project, you should _____
a. Add the suggested scenario
b. Reject adding the new test
c. Postpone the discussion for a later time
d. Ask each one of them to explain the logic behind his opinion
Answer: c
PMP Questions #3
You were assigned to a new project where you expect to have a high volume of duties, as the project sponsor approved one project management resource "Project coordinator" to be added to your project team. To lower your workload, which of the following tasks would you assign to him?
a. Engage different teams and align their work together
b. Oversee other workstreams and realign any off-track workstream
c. Oversee project risk management activities
d. Develop and maintain business documents
Answer: c
PMP Questions #4
Company XYZ decided to terminate your eight-month project during the 3rd month due to budget cuts, as the project manager for this project, what should you do next?
a. Try to convince the management to reconsider their decision
b. Ask the management to consider the project successful according to the current rate of performance
c. Do nothing since the management decision is final
d. Transfer the finished and unfinished deliverables to concerned parties
Answer: d
Attend our 100% Pass PMP Proxy Service to save your time and money!
PMP Questions #5
Project X is a new product development project that is running for almost six months. Since you were assigned to the project as a replacement for the former project manager, you have heard from the project team that despite the robust change control process in place, the project is facing so many changes in the previously approved scope and requirements keeps changing, you should _____
a. Consider changing development approach
b. Reject all upcoming changes
c. Revisit change management process
d. Educate the team that all changes are welcome as long as they're funded
Answer: a
PMP Questions #6
A change request was submitted to add new scope to a running project; the agreed process for decision making within the project is to reach unanimity voting between 5 board members. In which case you should go in for the change?
a. Three out of the five approved
b. Four out of the five approved
c. The project sponsor approved
d. None of the above
Answer: d
PMP Test Questions #7
During sprint meeting for a software development project, the project manager took the voting of the project team around a specific decision when one of the group held his fist closed, what does this indicate to?
a. He is not interested in participating
b. He is OK with the decision
c. He disagrees with the decision
d. He fully supports the decision
Answer: c
PMP Questions #8
As a new project manager hired to work for Company XYZ customer projects. In your first project, you gave high focus to using automated tools, and this made your project management team wonder about the significance of using such change in the way they used to work in the company, what would you advise them?
a. It is a part of tailoring project integration management considerations
b. It is a new trend and good practice for project integration management
c. It is how you do project management
d. It is an existing practice within the company
Answer: b
PMP Questions #9
Upon the project management plan review for approval, one of the critical stakeholders raised a concern that a vital component of the project scope wan not included in the final version, you should _____
a. Submit change request
b. Amend the plan with the missing requirement
c. Disregard the concern
d. Review the requirements documentation and traceability matrix
Answer: d
PMP Questions #10
You are managing a software development project with an agile approach, as you just completed release one, what should you do to prepare for the next release?
a. Confirm Scope baseline is up to date
b. Review Backlogs
c. Confirm Scope statement still valid
d. Review previous release WBS
Answer: b
Why SPOTO PMP Exam Dump?
SPOTO is a leading IT training institute with 17 years of experience. We offer 100% real IT exam questions and answers to help candidates to pass their dream IT exams in the first try.
100% real and valid PMP exam questions and answers.
Fewer questions but with the highest accuracy to save time and money.
Online professional tutors who will solve all your problems.
100% passing rate from SPOTO candidates
Free update to ensure the dump stability
Free service extension in case of failure
Read more:
Please follow and like us: