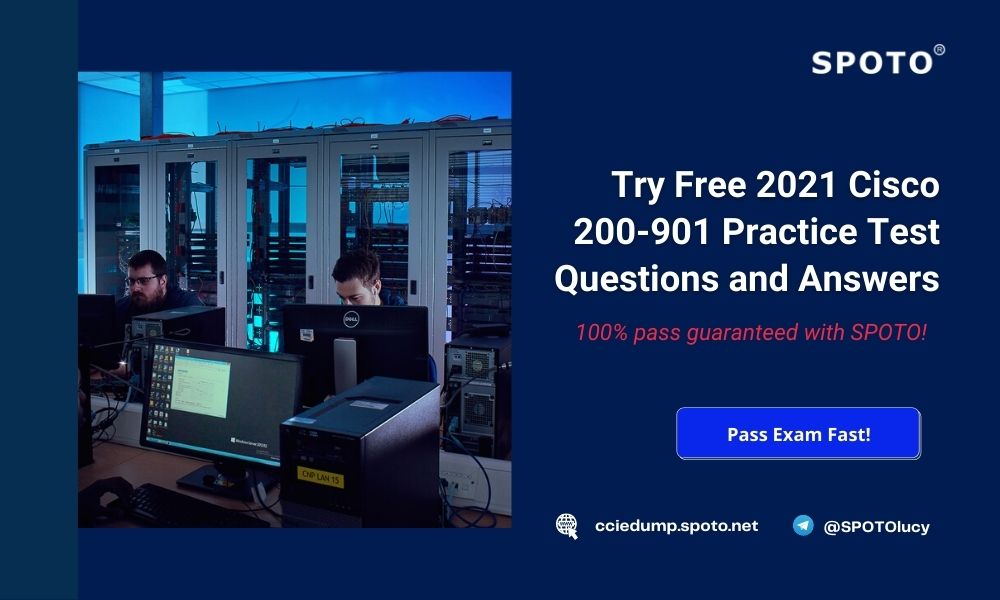 Are you prepared to take the 200-901 DevNet Associate (DEVASC) exam? SPOTO's 200-901 practice test will allow you to investigate every aspect of the course plan, leaving no significant element missing. The 200-901 dumps, on the other hand, give you exclusive, concise, and comprehensive content, saving you precious time searching for the study content and spending your efforts on irrelevant, uninteresting, and voluminous preparatory content.
SPOTO 200-901 DevNet Associate (DEVASC) questions answers test simulator is considerably more effective in familiarizing yourself with the format and type of 200-901 questions in IT certification exam paper.
You can now use this free practice test to evaluate your preparation. You may find a complete and legitimate dump here.
Categories
Exam Code
100% Pass Dumps
CCNA
200-301
200-901 DevNet
200-201 Cyber Ops

QUESTION 1
Which Cisco platform provides organization-wide automation, security, policy enforcement, any agility across wired and wireless networks?
A. Cisco ACI
B. Cisco DNA Center
C. Cisco Umbrella
D. Cisco SD-WAN
Correct Answer: D
QUESTION 2
Which description of a default gateway is true?
A. It is a security feature that denies certain traffic.
B. It is a device that receives IP packets that have no explicit next-hop in the routing table.
C. It is a feature that translates between public and private addresses.
D. It is a device that receives Layer 2 frames with an unknown destination address.
Correct Answer: B
QUESTION 3
Package updates from a local server fail to download. However, the same updates work when a much slower external repository is used. Why are local updates failing?
A. The server is running out of disk space.
B. The Internet connection is too slow.
C. The Internet is down at the moment, which causes the local server to not be able to respond. D. The update utility is trying to use a proxy to access the internal resource.
Correct Answer: D
QUESTION 4
How do XML and JSON compare regarding functionality?
A. XML provides support for mapping data structures into host languages than JSON.
B. XML provides more human readability than JSON.
C. JSON provides support for data types than XML.
D. JSON natively supports arrays and XML does not natively support arrays.
Correct Answer: D
QUESTION 5
A developer is trying to retrieve data over a REST API. The API server responds with an HTTP client error response code. After investigating the response the developer realizes the response has a Retry-After header. What is the root cause of this error?
A. An appliance limited the rate of requests to the transport layer.
B. The REST service is unreachable at the time of the REST request.
C. Too many requests were sent to the REST service in a given amount of time.
D. An appliance limited the rate of requests to the application layer.
Correct Answer: C
Click here to refer friends to get rewards and upskill yourself!
QUESTION 6
What are the two principles of an infrastructure as a code environment? (Choose two)
A. Complete complex systems must be able to be built from reusable infrastructure definitions. B. Environments must be provisioned consistently using the same inputs.
C. Redeployments cause varying environment definitions.
D. Service overlap is encouraged to cater for unique environment needs.
E. Components are coupled, and definitions must be deployed for the environment to function.
Correct Answer: AB
QUESTION 7
Which platform is run directly on top of a hypervisor?
A. bare metal systems
B. virtual machines
C. containers
D. applications
Correct Answer: B
QUESTION 8
What is the function of IP address in networking?
A. specifies the type of traffic that is allowed to roam on a network
B. represents the unique ID that is assigned to one host on a network
C. specifies resource's location and the mechanism to retrieve it
D. represents a network connection on specific devices
Answer : B
QUESTION 9
Which status code is used by a REST API to indicate that the submitted payload is incorrect?
A.400
B.403
C.405
D.429
Answer : A
QUESTION 10
How are load balancers used in modern application deployment?
A. Allow traffic to continue as new compute units are brought up and old compute units are taken down.
B. Allow http and https traffic to continue as old compute units are discontinued before new units are brought up.
C. Turn off traffic and take down compute units, then update and bring the compute units back up.
D. Bring up new compute units, test the compute units, and switch the traffic from old units to new units.
Answer : D
Conclusion
It has never been easier to obtain the world's most prestigious professional qualification than it is now! SPOTO's Cisco 200-901 dump is the greatest solution for ensuring your success in one sitting.

Latest passing report-100% pass guarantee
Related Cisco exam study materials 
Please follow and like us: