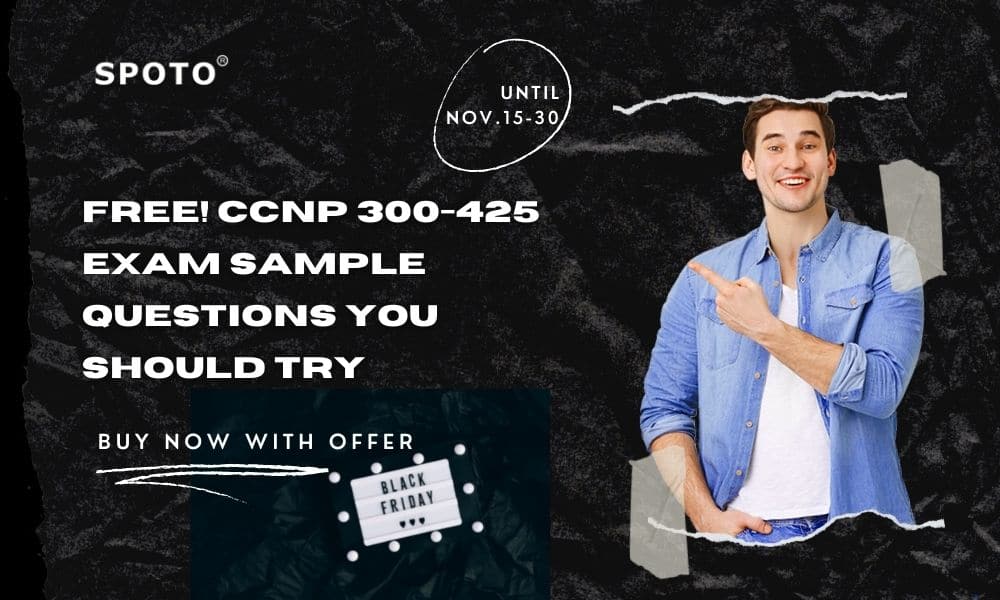 To pass your Cisco 300-425 test, the best method is to challenge and improve your knowledge. We recommend that you prepare with SPOTO Cisco 300-425 Certification Exam DUMPS to test your knowledge and identify areas for development using genuine exam format. The practice test is an essential component of your Designing Cisco Enterprise Wireless Networks (ENWLSD) exam preparation approach since it allows you to identify your strengths and weaknesses, develop your time management skills, and get an estimate of the score you may expect.
Before you buy, take a free 300-425 practice test to assess your skills!
Click to join the SPOTO Black Friday Lucky Draw to save more!
Categories
Exam Code
100% Pass Dumps
CCNP Enterprise
350-401 ENCOR
300-410 ENARSI
300-415 ENSDWI
300-420 ENSLD
300-425 ENWLSD
300-430 ENWLSI
300-435 ENAUTO

1. During your Layer 1 sweep in an office building, you find RF traces near a desk showing low power as well as multiple spikes across the 2.4GHz band. Which transmitter is most likely to produce this pattern?
A. A wireless security camera
B. An old 802.11b access point
C. A microwave oven
D. A Bluetooth headset
Answer: D
2. Your junior associate wants to start surveying a cubicle space in an office building. Where should the associate position the first AP to start the AP-on-a-stick survey?
A. At the corner of the building floor
B. At the geometric center of the floor
C. At the center of one cubicle block
D. Over the corridor between two cubicle blocks
Answer: A
3. The SNR is correctly measured according to which one of the following statements?
A. The AP's transmit power level minus the noise floor
B. The receiver's sensitivity level minus the noise floor
C. The noise floor minus the AP's transmit power level
D. The RSSI minus the noise floor
Answer: D
4. Which one of the following applications would be the most appropriate use for an AP model that has internal antennas?
A. A location where a relatively wide coverage area is desired
B. A location where coverage is needed toward one side of the AP
C. A location where a patch antenna's pattern is required
D. A location where an omnidirectional antenna is not desirable
Answer: A
NO.5 An engineer must create data link redundancy for the company's Cisco Wireless LAN controller. The engineer has decided to configure LAG-based redundancy instead of port-based redundancy. Which three features of LAG-based redundancy influenced this decision? (Choose three.)
A.Packets are always sent out on the same port they are received on.
B.All interface traffic passes as long as one port is up.
C.The same port has multiple untagged dynamic interfaces.
D.Interface connection to two separate nonstacked switches is available.
E.Full bandwidth of all links is available.
F.Ports are grouped into multiple LAGs.
Answer: ABF

Click to join the SPOTO Black Friday Lucky Draw!
NO.6 A network engineer is working on a predictive WLAN design, the new wireless network must support access to Internet, email, voice, and the inventory database, to successfully support these services, which configuration must the engineer use for the signal strength levels and SNR on the planning tool?
A.signal strength of -67 dBm, 25-dB SNR, and maximum 1 percent packet loss.
B.signal strength of -67 dBm, 20-dB SNR, and maximum 5 percent, packet loss.
C.signal strength of 67 dBm, 20-dB SNR, and maximum 1 percent packet loss.
D.signal strength of-70 dBm,30-dB SNR. and maximum 10 percent packet loss.
Answer: A
NO.7 Which non-Wi-Fi interferer can be identified by Metageek Chanalyzer?
A.PDAs
B.jammers
C.smartphones
D.printers
Answer: B
NO.8 An enterprise is using two wireless controllers to support the wireless network. The data centre is located in the head office Each controller has a corporate WLAN configured with the nameCopr-NET390595865WLC-1 and Copr-NET6837l638WLC-2. The APs are installed using a round-robin approach to load balance the traffic. What should be changed on the configuration to optimize roaming?
A. Move all access points to one controller and use the other as N+1 HA.
B. Use the same WLAN name for the corporate network on both controllers.
C. Use the same WLAN name for the corporate network on both controllers.
D. Place the access points per floor on the same controller.
Answer: A
NO.9 During a wireless network design, a customer requires wireless coverage on the perimeter of a building but also wants to minimize signal leakage from the wireless network. Which antenna should be used to accomplish this design?
A.Patch
B.Dipole
C.Monopole
D.Omnidirectional
Answer: B
NO.10 When conducting a site survey for real-time traffic over wireless, which two design capabilities of smartphones and tablets must be considered? (Choose two.)
A.no support for 802.11ac
B.higher data rates than laptops
C.fewer antennas than laptops
D.no support for 802.11r
E.lower data rates than laptops
Answer: CE
Conclusion
It would be terrible to study for weeks just to come into class unprepared because the materials you have just aren't up to the task. SPOTO despises the thought that this could ever happen, but it has, and we've seen it. So we have a confidence pledge: if you use our supplies and are unable to obtain certification, please contact our customer care and we will assist you in making things right.  SPOTO 100% real 300-425 exam dumps can help you pass the 300-425 exam on the first try! So, when it comes to Designing Cisco Enterprise Wireless Networks (300-425 ENWLSD), walk confidently since we are on your side.

Latest Passing Report-100% Pass Guarantee
Recommend Exam Study Materials:
Please follow and like us: