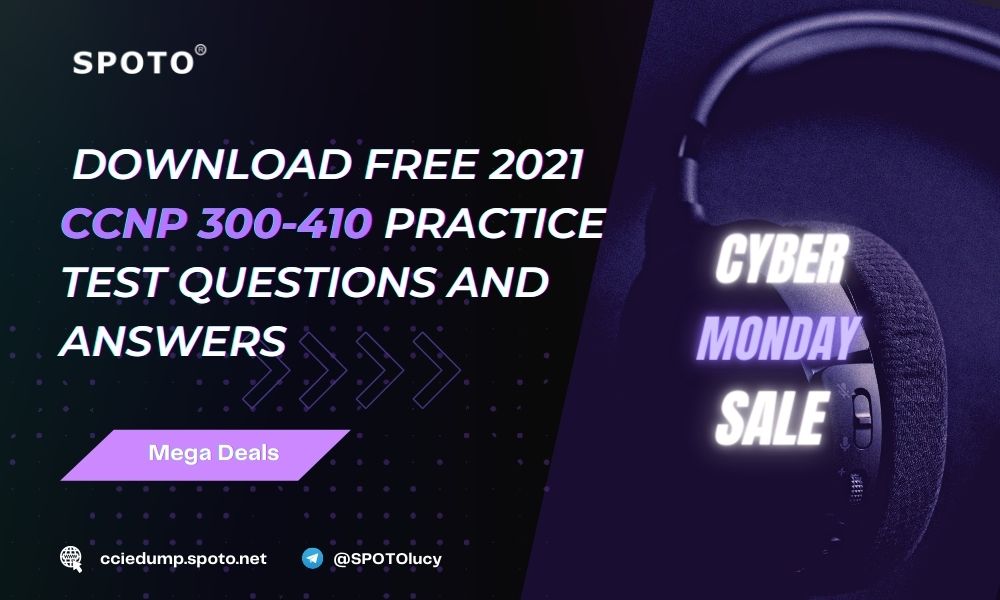 Customers can download a free 300-410 demo of our practice material before deciding whether or not to purchase it. Free demos are critical since they allow you to examine the exact quality of the 300-410 practice material.
Before making a purchase, you may download a free 300-410 test demo to try out the product. Implementing Cisco Enterprise Advanced Routing and Services test questions and answers are available in part only, with not all questions general.
Now SPOTO 300-410 exam dumps with real 300-410 exam questions and answers enjoy Cyber Monday Special Offer to get IT certified fast.
Categories
Exam Code
100% Pass Dumps
CCNP Enterprise
350-401 ENCOR
300-410 ENARSI
300-415 ENSDWI
300-420 ENSLD
300-425 ENWLSD
300-430 ENWLSI
300-435 ENAUTO

QUESTION 1
Which method changes the forwarding decision that a router makes without first changing the routing table or influencing the IP data plane?
A. nonbroadcast multiaccess
B. packet switching
C. policy-based routing
D. forwarding information base
Correct Answer: C
QUESTION 2
What is a prerequisite for configuring BFD?
A. Jumbo frame support must be configured on the router that is using BFD.
B. All routers in the path between two BFD endpoints must have BFD enabled.
C. Cisco Express Forwarding must be enabled on all participating BFD endpoints.
D. To use BFD with BGP, the timers 3 9 command must first be configured in the BGP routing process.
Correct Answer: C
QUESTION 3 Which attribute eliminates LFAs that belong to protected paths in situations where links in a network are connected through a common fiber?
A. shared risk link group-disjoint
B. linecard-disjoint
C. lowest-repair-path-metric
D. interface-disjoint
Correct Answer: B
QUESTION 4 Which command displays the IP routing table information that is associated
with VRF-Lite?
A. show ip vrf
B. show ip route vrf
C. show run vrf
D. show ip protocols vrf
Correct Answer: B
QUESTION 5 Which configuration adds an IPv4 interface to an OSPFv3 process in OSPFv3 address family configuration?
A. router ospfv3 1 address-family ipv4
B. Router(config-router)#ospfv3 1 ipv4 area 0
C. Router(config-if)#ospfv3 1 ipv4 area 0
D. router ospfv3 1 address-family ipv4 unicast
Correct Answer: D
Get IT certified with SPOTO Cyber Monday Special Offer!
QUESTION 6
Which configuration enables the VRF that is labeled "Inet" on FastEthernet0/0?
A. R1(config)# ip vrf Inet
R1(config-vrf)#ip vrf FastEthernet0/0
B. R1(config)#ip vrf Inet FastEthernet0/0
C. R1(config)# ip vrf Inet
R1(config-vrf)#interface FastEthernet0/0
R1(config-if)#ip vrf forwarding Inet
D. R1(config)#router ospf 1 vrf Inet
R1(config-router)#ip vrf forwarding FastEthernet0/0
Correct Answer: C
QUESTION 7
Which statement about route distinguishers in an MPLS network is true?
A. Route distinguishers allow multiple instances of a routing table to coexist within the edge router.
B. Route distinguishers are used for label bindings.
C. Route distinguishers make a unique VPNv4 address across the MPLS network.
D. Route distinguishers define which prefixes are imported and exported on the edge router.
Correct Answer: C
QUESTION 8
Which statement about MPLS LDP router ID is true?
A. If not configured, the operational physical interface is chosen as the router ID even if a loopback is configured.
B. The loopback with the highest IP address is selected as the router ID.
C. The MPLS LDP router ID must match the IGP router ID.
D. The force keyword changes the router ID to the specified address without causing any impact.
Correct Answer: B
QUESTION 9 Which list defines the contents of an MPLS label?
A. 20-bit label; 3-bit traffic class; 1-bit bottom stack; 8-bit TTL
B. 32-bit label; 3-bit traffic class; 1-bit bottom stack; 8-bit TTL
C. 20-bit label; 3-bit flow label; 1-bit bottom stack; 8-bit hop limit
D. 32-bit label; 3-bit flow label; 1-bit bottom stack; 8-bit hop limit
Correct Answer: A
QUESTION 10 Which protocol is used to determine the NBMA address on the other end of a tunnel when mGRE is used?
A. NHRP
B. IPsec
C. MP-BGP
D. OSPF
Correct Answer: A
Conclusion
Professionals who acquire the Cisco Certified Network Professional (CCNP) Enterprise certification can pursue a wide range of highly lucrative occupations. Cybersecurity Sales Specialist, Enterprise Account Executive, Network Architect, Senior Software Engineer (including healthcare networking), Network Security Application Engineer, Cisco Network Security Engineer (including cloud infrastructure implementation engineer) are just a few of the job roles they can pursue among others.
The applicants can expect to earn an average salary of $95,000 per year if hired for any of these positions. Some of them can earn as much as $120,000 or more each year, depending on their experience. This amount will be determined by their job title, employment experience, and the tasks they perform daily.

Latest passing report-100% pass guarantee
Related IT exam study materials 
Please follow and like us: