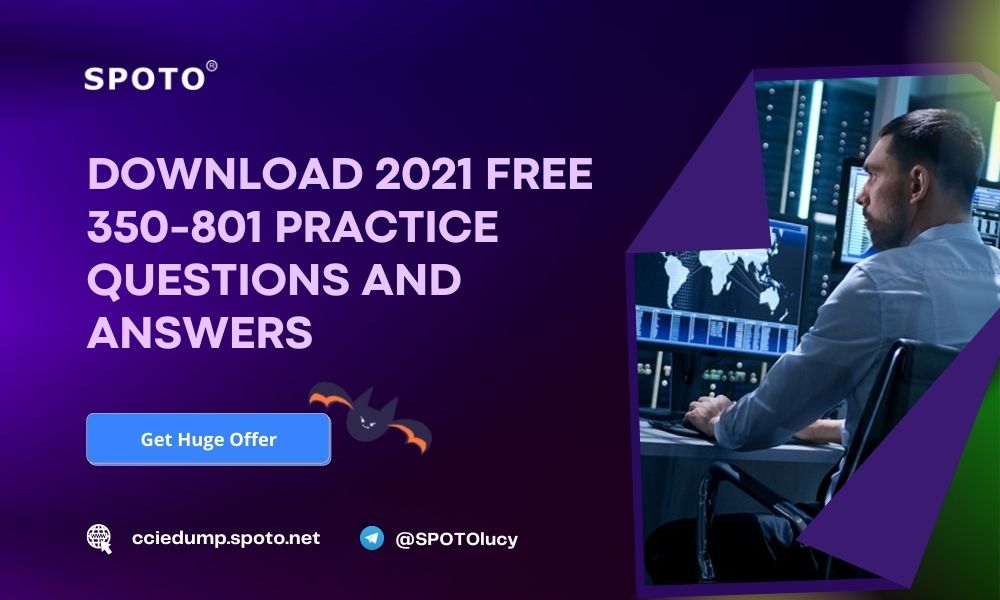 The CLCOR 350-801 exam, Implementing Cisco Collaboration Core Technologies v1.0, is a 120-minute exam that is part of the CCNP and CCIE Collaboration Certifications. This exam assesses a candidate's understanding of fundamental collaboration technologies such as infrastructure and design, protocols, codecs, and endpoints, Cisco IOS XE gateway and media resources, Call Control, QoS, and collaboration applications, as well as Cisco IOS XE gateway and media resources.
To prepare for the next Cisco CCNP Collaboration (350-801 CLCOR) test, use our free sample exam questions to assess yourself. You can get complete 350-801 dumps for a single success with a huge Halloween Offer.
Categories
Exam Code
100% Pass Dumps
CCNP Collaboration
350-801 CLCOR
300-810 CLICA
300-815 CLACCM
300-820 CLCEI
300-835 CLAUTO

Question: 1
An administrator is trying to change the default LINECODE for a voice ISDN T1 PRI. Which command makes the change?
A. linecode ami
B. linecode hdb3
C. linecode b8zs
D. linecode esf
Answer: A
Question:2
How does an administrator make Cisco IP phone display the last 10 digits of the calling number when the call is in the connected state, and also display the calling number in the E.164 format within call history on the phone?
A. Configure a calling party transformation pattern that keeps only last 10 digits.
B. Configure a translation pattern that has a calling Party Transform Mask of XXXXXXXXXX.
C. On the inbound SIP trunk, change Significant Digits to 10.
D. Change the service parameter Apply Transformations On Remote Number to True
Correct Answer: D
Question: 3
An engineer configures Cisco Unified Communications Manager to prevent toll fraud. At which two point does the engineer block the pattern in Cisco Unified CM to complete this task? (Choose two.)
A. route pattern
B. translation pattern
C. route group
D. partition
E. CSS
Correct Answer: DE

Get Halloween Huge Offers here to enjoy discounts on all IT certification exam dumps!!
Question: 4
What is a software-based media resource that is provided by the Cisco IP Voice Streaming Application?
A. Video conference bridge
B. transcoder
C. annunciator
D. auto-attendant
Answer: C
Question: 5
When a user dials a number with a phone that is registered to the Cisco Unified Communications Manager, what is the default timeout before the number is sent?
A. 3 seconds
B. 15 seconds
C. 10 seconds
D. 5 seconds
Answer: B
Question: 6
What are two characteristics of priority queueing?(Choose two.)
A. It guarantees bandwidth for user-defined traffic classes.
B. It applies strict priority to user-defined traffic classes.
C. It allocates an equal share of bandwidth to each flow.
D. It places traffic Into one of four queues.
E. It ensures that critical traffic queues are serviced first.
Answer: DE
Question 7:
An engineer is configuring a BOT device for a Jabber user in Cisco Unified Communication Manager. Which phone type must be selected?
A. Cisco Dual Mode for iPhone
B. Cisco Dual Mode for Android
C. third-party SIP device
D. Cisco Unified Client Services Framework
Answer: B

Please join the GIVEAWAY activity to win Grand Prize!
Question: 8
How does Cisco Unified Communications Manager perform a digit analysis on-hook versus off-hook for an outbound call from a Cisco IP phone that is registered to Cisco Unified CM?
A. On-hook, by pressing the digits and entering "#" to process the cal1, Unified CM performs a digit-by-digit analysis; off-hook, Unified CM analyses all digits as a string.
B. On-hook, unified CM performs a digit-by-digit analysis; off-hook, Unified CM considers all digit were dialed and dos not wait for additional digits.
C. On-hook, no digit analysis is performed; off-hook, Unified CM requires the "# to start the digit analysis.
D. On-hook, Unified CM considers all digits were dialed and does not wait for additional digits; off-hook. Unified CM performs a digit-by-digit analysis.
Answer: D
Question #:9
An engineer troubleshoots a Cisco Jabber login problem on a Windows PC in the corporate network. The login fails with the error message "Cannot find your services automatically. Click Advanced settings to set up manually." Which action should the engineer take first?
A. Verify the username and password and try again
B. Verify whether the cup-xmpp certificates are valid.
C. Perform a manual DNS lookup of SRV record_collab-edge._tls.domain.com.
D. Perform a manual DNS lookup of SRV record _cisco-uds.tcp.domain.com.
Answer: D
Question: 10
An administrator is in the process of moving cisco unity connection mailboxes between mailbox stores the administrator notices that some mailboxes have active message waiting indicators what happens to these mailboxes when they are moved?
A. The move will fall If MWI status Is active.
B. Moving the mailboxes from one store to another falls If MWI Is turned on.
C. If source and target mailbox store are not disabled. MWI status is not retained.
D. The MWI status is retained after a mailbox is moved from one store to another.
Answer: D
Conclusion
To attain the Cisco 350-801 CLCOR certification, you need to work smarter. Take enough practice tests in SPOTO 350-801 exam dumps to gain the required expertise to pass the exam and attain certification. To sum up, guaranteed success in the exam is by practice with thorough preparations.

Latest passing report-100% pass guarantee
Related Cisco exam study materials 
Please follow and like us: