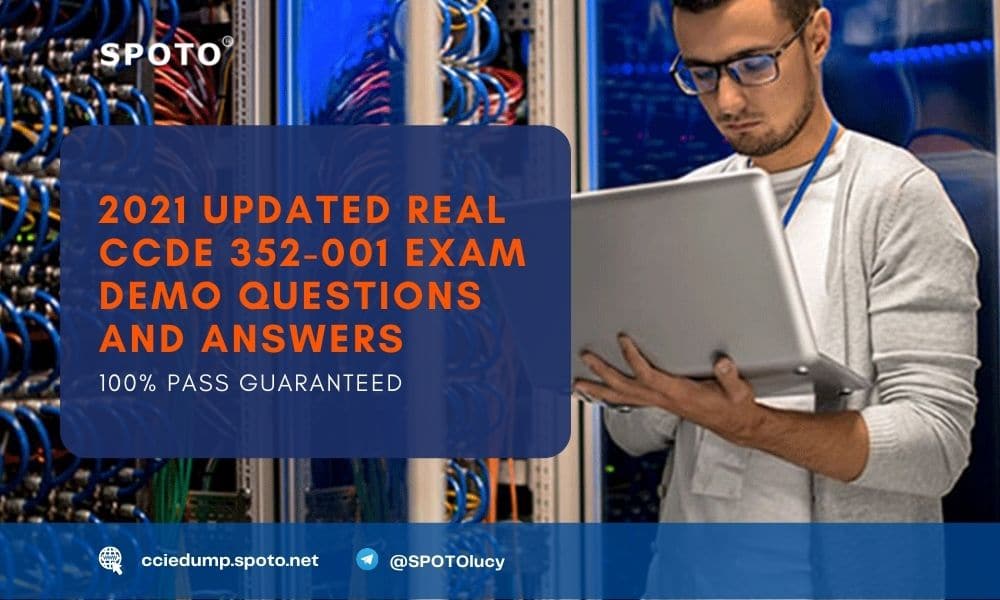 Because "action speaks louder than words," SPOTO not only outlines its 352-001 dumps features but also encourages you to experience a free demo to determine the dumps' quality. The entire CCDE 352-001 dump package in VCE format contains actual test questions and answers that will help you pass the 352-001 exam in the first attempt.
The most recent SPOTO CCDE 352-001 test dumps are based on the exam objectives and are intended to assist you in passing the 352-001 exam.
A Refer a Friend to Get a Coupon activity is also available! You'll both receive a unique code to save money on our high-quality products if you recommend a friend to us! It's now or never to join!

QUESTION 1
Your company wants to deploy a new data center infrastructure. Based on the requirements you have chosen VXLAN as encapsulation technology. The customer is concerned about miss-configuration of Layer 2 devices and DC wide outages caused by Layer 2 loops. What do you answer?
A. VPC+ could prevent L2 loop on access ports
B. BPDU Guard should be enabled on all VTEP access ports
C. Storm Control should be enabled on all ports
D. VXLAN offers native loop avoidance mechanism
Correct Answer: A
QUESTION 2
A customer asks you to perform a high level review of their upcoming WAN refresh for remote sites. The review is specially focused on their retail store operations consisting of 500+ locations connected via mutlipoint IPsec VPN solution. Which routing protocol would be valid but would also be the most restrictive for the expansion of this deployment model?
A. OSPF
B. BGP
C. IS-IS
D. EIGRP
Correct Answer: D
QUESTION 3
A large enterprise customer is migrating thousands of retail offices from legacy TDM circuits to an Ethernetbased service. The network is running OSPF and has been stable for many years. It is now possible to backhaul the circuits directly to the data centers, bypassing the regional aggregation routers. Which two networking considerations need to be addressed to ensure stability with the new design? (Choose two.)
A. The amount of LSA flooding will increase significantly.
B. The FIB will increase significantly.
C. Nothing will change if the number of offices is the same.
D. The RIB will increase significantly.
E. Nothing will change if the number of physical interfaces stays the same.
F. The size of the link-state database will increase significantly.
Correct Answer: AF
QUESTION 4
When designing a WAN that will be carrying real-time tafc, what are two important reasons to consider serialization delay? (Choose two.)
A. Serialization delays are variable because they depend only on the size of the packet being serialized.
B. Serialization delays are invariable because they depend only on the line rate of the interface.
C. Serialization delays are variable because they depend on the line rate of the interface and on the type of
the packet being serialized.
D. Serialization delay is the time required to transmit the packet on the physical media.
E. Serialization delay depends not only on the line rate of the interface but also on the size of the packet.
Correct Answer: DE
QUESTION 5
Which mechanism provides Layer 2 fault isolation between data centers?
A. LISP
B. advanced VPLS
C. fabric path
D. TRILL
E. OTV
Correct Answer: E

QUESTION 6
You are tasked to design a QoS policy for a service provider so they can include it in the design of their MPLS core network If the design must support an MPLS network with six classes, and CEs will be managed by the service provider, which QoS policy should be recommended?
A. map IP CoS bits into the IP Precedence field
B. map DSCP bits into the Exp field
C. map flow-label bits into the Exp field
D. map IP precedence bits into the DSCP field
Correct Answer: B
QUESTION 7
You are designing a network for a branch office. In order to improve convergence time, you are required to use the BFD feature. Which four routing protocols can you use to facilitate this? (Choose four.)
A. RIP
B. IS-IS
C. static
D. BGP
E. EIGRP
Correct Answer: ABDE
QUESTION 8
Your network operations team is deploying Access Control Lists (ACLs) across your Internet gateways. They wish to place an ACL inbound on the Internet gateway interface facing the core network (the "trusted" interface). Which IP address would the ACL need for traffic sourced from the inside interface, to match the source address of the traffic?
A. outside global
B. outside local
C. inside global
D. inside local
Correct Answer: D
QUESTION 9
A network architect must redesign a service provider edge, where multiservice and multitenant PEs are currently present. Which design feature should be minimized in the new design to achieve reliability?
A. bridging
B. unicast overlay routing
C. fate sharing
D. redundancy
Correct Answer: A
QUESTION 10
A senior network designer suggests that you should improve network convergence times by reducing BGP timers between your CE router and the PE router of the service provider. Which two factors should you consider to adjust the timer values? (Choose two.)
A. service provider agreement to support tuned timers
B. number of routes on the CE router
C. service provider scheduling of changes to the PE
D. number of VRFs on the PE router
E. manual updates to the peer groups
Correct Answer: CE
Summary
Cisco CCDE 352-001 has given the IT industry new dimensions and is regarded as a platform for a prosperous future. However, passing the Cisco CCDE test demands a lot of effort because there is no other method to pass the 352-001 Cisco Certified Design Expert Written Exam other than learning.
So, if you like the 352-001 demo, go ahead and get the full version with all the questions and answers! To get your desired Cisco certification, you must practice with SPOTO-certified dumps. SPOTO is the only way to get you where you want to go. Only a week of preparation is required to pass the CCDE 352-001 exam with flying colors.

Latest Passing Report-100% pass guarantee
Recommend Cisco exam study materials: 
Please follow and like us: