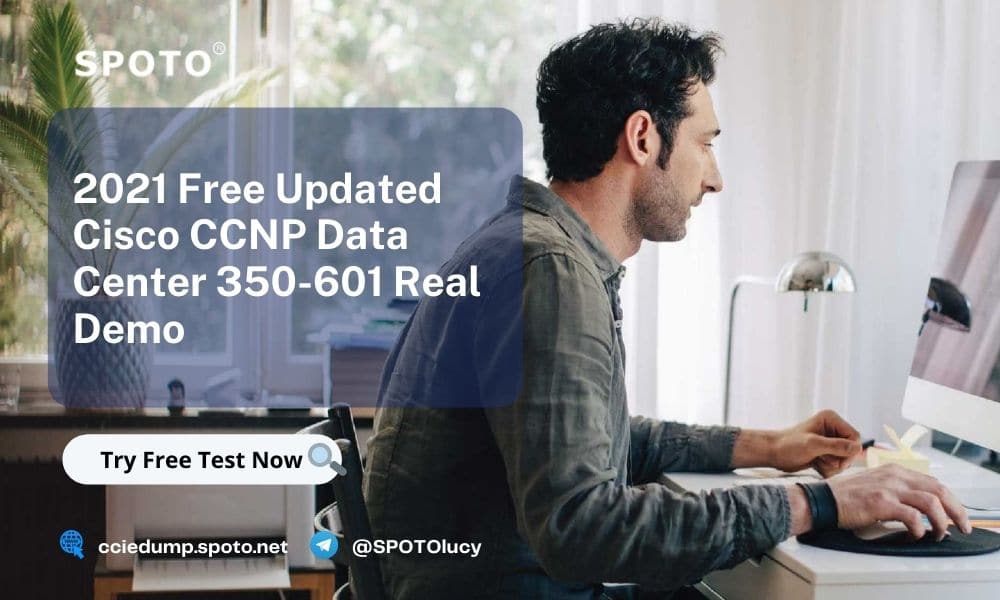 You must pass the CCNP Data Center 350-601 test if you want to obtain CCNP Data Center certification and further your networking profession. SPOTO provides a free CCNP Data Center 350-601 demo with 10 real exam questions and answers to assist you to understand the exam topics and format.
If you want to receive the complete Cisco 350-601 exam questions and answers at a favorable price, you can contact us to get the Referral Friends Offer in SPOTO!
SPOTO 350-601 test dump contains actual CCNP Data Center questions and answers that have been verified and updated to ensure accuracy.
Categories
Exam Code
100% Pass Dumps
CCNP Data Center
350-601 DCCOR
300-610 DCID
300-615 DCIT
300-620 DCACI
300-625 DCSAN
300-635 DCAUTO
350-601 DCCOR

QUESTION 1
An engineer creates a service profile in Cisco UCS Manager and must assign a policy that reboots blades when changes are applied. The changes must be applied only after user acknowledgment. Which two policies must be configured to meet these requirements? (Choose two.)
A. Boot Policy
B. Global Policy
C. Reboot Policy
D. Power Control Policy
E. Maintenance Policy
Correct Answer: CE
QUESTION 2
Several production and development database servers exist in the same EPG and IP subnet The IT security policy is to prevent connections between production and development. Which attribute must be used to assign the servers to different microsegments?
A. data center
B. VMM domain
C. VM name
D. IP address
Correct Answer: B
QUESTION 3
An engineer must perform a software upgrade on a production Cisco Nexus 7000 Series Switch. Before the upgrade activity, the requirement is for all ports to be shutdown and routing protocols to terminate gracefully. Which feature must be used to meet these requirements?
A. Service Profile Template
B. Switch Profile
C. Maintenance Mode Profile
D. Configuration Profile
Correct Answer: C
QUESTION 4
When deploying a Cisco HyperFlex edge with a pair of switches, what is the minimum number of interfaces in trunk mode required on each HX node?
A. 1
B. 2
C. 4
D. 6
Correct Answer: B
QUESTION 5
A network engineer plans to upgrade the firmware of a Cisco UCS B- Series chassis by using the AutoInstall feature. Which component is upgraded during the infrastructure firmware upgrade stage?
A. Cisco IMC
B. I/O Modules
C. Adapter
D. BIOS
Correct Answer: B

QUESTION 6
Which server policy is used to install new Cisco IMC software on a server?
A. Host firmware policy
B. Cisco IMC software policy
C. BIOS software policy
D. Hypervisor firmware policy
Correct Answer: A
QUESTION 7
An engineer requires a solution to automate the configuration and deployment of remote network devices for a customer. The engineer must keep these considerations in mind:
The customer's environment is based on industry-accepted standards and requires a solution that meets these standards.
The security requirements mandate the use of a secure transport mechanism between the automation software and target devices such as SSH or TLS.
The Solution must be based on a human-readable and easy to parse format such as XML or JSON.
Which solution must be used to meet these requirements?
A. NETCONF
B. Ansible
C. SNMP
D. REST API
Correct Answer: A
QUESTION 8
A new employee must be granted access to add VLANs into an existing Cisco UCS Manager and configure NTP synchronization with date and time Zone settings. Which two privileges must be granted to the employee to complete the task? (Choose two.)
A. Ext LAN Config (ext-lan-security)
B. Service Profile Network Policy (Is-network-policy)
C. Ext LAN Policy (ext-lan-policy)
D. Service Profile Config (Is-config)
E. Service Profile Compute (Is-compute)
Correct Answer: AC
QUESTION 9
Due to a major version change, an engineer must perform a software upgrade on a Cisco Nexus Series switch. Which two technologies can be implemented to reduce disruptions to the network during the upgrade? (Choose two.)
A. MLAG
B. HSRP
C. PAgP
D. VDC
E. vPC
Correct Answer: BE
QUESTION 10
An engineer configures the properties of a Cisco UCS Cisco Integrated Management Controller network adapter for a standalone Cisco C-Series Server. The Failback Timeout in the vNIC was set to 600. When the failure occurs, the secondary interfaces must be used and then failback when the primary interface becomes available again. Which action must be taken to meet these requirements?
A. Disable VNTAG mode.
B. Set default VLAN on the adapters.
C. Enable Uplink Failover.
D. Increase CoS to 6.
Correct Answer: C
Next Step
CCIE DC lab v3.0 is available for pass!  Join us to share your success!
100% real workbooks and solutions
CCIE Tutor support
Tutorial video explanation
Try free demo before try!

Conclusion
If you want to pass CCNP 350-601 exam fast, get complete SPOTO 350-601 exam dumps to smoothen your prep well! You'll pass your 350-401 exam in no time with SPOTO's 100% real 350-401 dumps. Get your IT career started right away!

Latest Passing Report-100% pass guarantee
Recommend Cisco exam study materials: 
Please follow and like us: