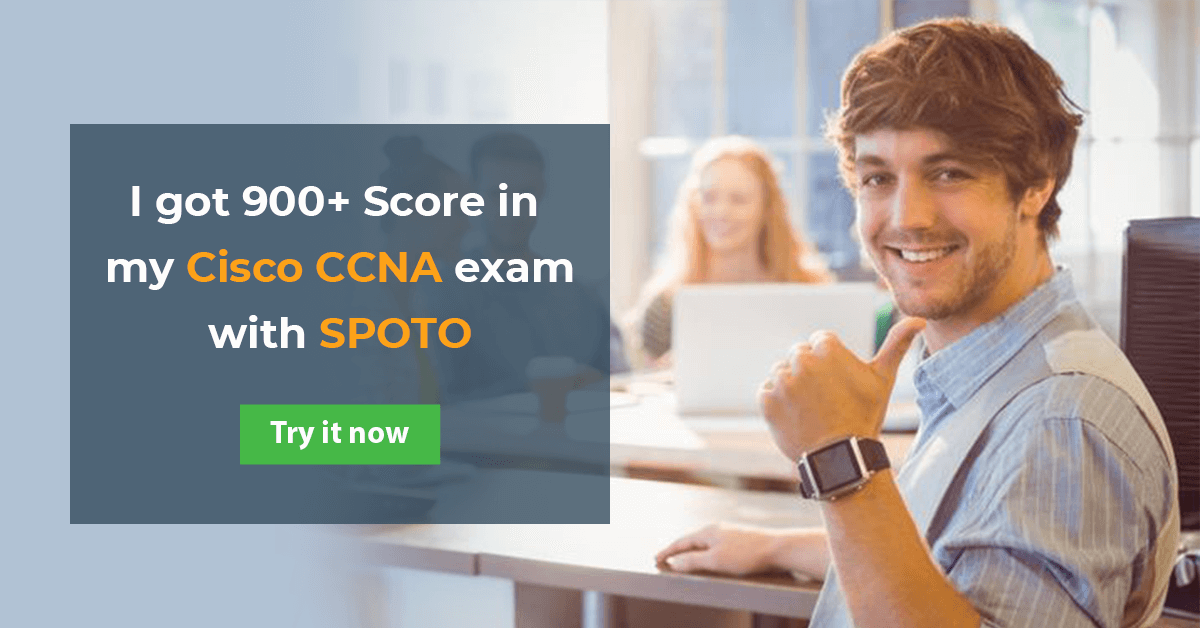 If you want to pass the CCNA (cisco certified networking) exam on the 1st try, SPOTO 100% real CCNA 200-301 practice tests are the best study materials for your preparation. SPOTO 200-301 exam practice exams cover real exam questions and answers, which have helped thousands of candidates pass the exam on the 1st try over 17 years.
Here, this post contains 10 CCNA questions with verified answers. Try this CCNA mock test below to test yourself!
Categories
Exam Code
100% Pass Dumps
CCNA
200-301
200-901 DevNet
200-201 Cyber Ops
Also, ONLY 2 days left for Black Friday Sale! Get CCNA dumps at the lowest price now!

QUESTION 1
Which two capabilities of the Cisco DNA Center make it more extensible? (Choose two.)
A. customized versions for small, medium, and large enterprises
B. adapters that support all families of Cisco IOS software
C. REST APIS that allow for external applications to interact natively with Cisco DNA Center
D. modular design that is upgradable as needed
E. SDKs that support interaction with third-party network equipment
Correct Answer: CE
QUESTION 2
When configuring IPv6 on an interface, which two IPv6 multicast groups are joined? (Choose two.)
A. 2000::/3
B. 2002::5
C. FC00::/7
D. FF02::1
E. FF02::2
Correct Answer: DE
QUESTION 3
An engineer must configure a WLAN using the strongest encryption type for WA2-PSK. Which cipher fulfills the configuration requirement?
A.AES
B.RC4
C.TKIP
D.WEP
Correct Answer: A
QUESTION 4
Which command automatically generates an IPv6 address from a specified IPV6 prefix and MAC address of an interface?
A.ipv6 address autoconfigure
B.ipv6 address 2001:DB8:5:112::2/64 link-local
C.ipv6 address dhcp
D. ipv6 address 2001:DB8:5:112::/64 eui-64
Correct Answer: A
QUESTION 5
Which statement identifies the functionality of virtual machines?
A.Each hypervisor can support a single virtual machine and a single software switch.
B.The hypervisor can virtualize physical components, including CPU, memory, and storage.
C.Virtualized servers run most efficiently when they are physically connected to a switch that is separate from the hypervisor.
D.The hypervisor communicates on Layer 3 without the need for additional resources.
Correct Answer: B
Enrolled in SPOTO CCNA training course. Check the IPV6 technology training video explained by the SPOTO CCIE expert!
QUESTION 6
What is the benefit of using a Cisco Wireless LAN Controller?
A. Central AP management requires more complex configurations.
B. Unique SSIDs cannot use the same authentication method.
C. It eliminates the need to configure each access point individually.
D. It supports autonomous and lightweight APs.
Correct Answer: C
QUESTION 7
A router running EIGRP has learned the same route from two different paths. Which parameter does the router use to select the best approach?
A. administrative distance
B. cost
C. metric
D. as-path
Correct Answer: C
QUESTION 8
Which statement correctly compares traditional networks and controller-based networks?
A. Only traditional networks natively support centralized management.
B. Only traditional networks offer a centralized control plane.
C. Traditional and controller-based networks abstract policies from device configurations
D. Only controller-based networks decouple the control plane and the data plane
Correct Answer: D
QUESTION 9
Which two encoding methods are supported by REST APIs? (Choose two.)
A.JSON
B.EBCDIC
C.YAML
D.XML
E.SGML
Correct Answer: AD
QUESTION 10
A-frame that enters a switch fails the Frame Check Sequence. Which two interface counters are incremented? (Choose two.)
A.input errors
B.CRC
C.frame
D.runts
E.giants
Correct Answer: AB
Why SPOTO
As a brilliant IT training institute for 17 years, SPOTO offers 100% real CCNA 200-301 Practice Tests, which contains real exam Questions and Answers. To ace, the 200-301 exam, all you have to do is purchase the SPOTO CCNA practice test and practice it for 3-5 days. Then, you can be encouraged to take the exam!
◆ 100% real 200-301 exam questions and answers
◆ Well Prepared by Our Professional Experts
◆ 100% real exam environment
◆ 100% pass guaranteed
◆ 24 Hour Online Support Available, VIP customer service
◆ Service Extension in case of failure

Latest passing report-100% pass guarantee
Recommend CCNA exam study materials:
Please follow and like us: