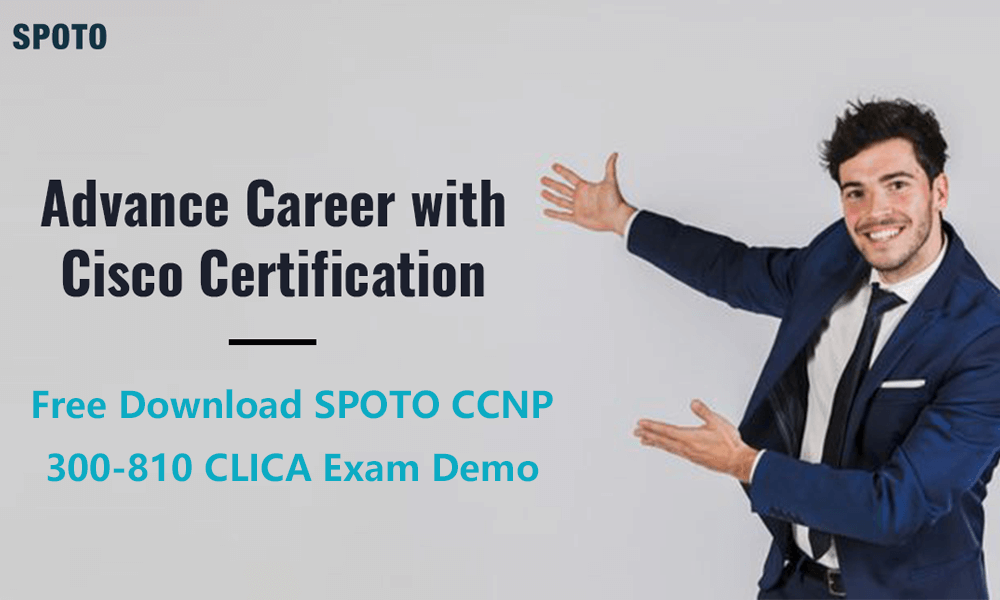 As we know, the 300-810 exam is one of the concentration exams of CCNP Collaboration Certification. For candidates who want to pass the 300-810 exam, they may be afraid of failing as it costs a lot of time and money.
It is just the time for you to choose SPOTO CCNP 300-810 dump now!
SPOTO offers 100% real and valid CCNP 300-810 exam questions and answers for you to pass the 300-810 exam in the first try. With SPOTO valid and authentic dumps and technical support from our professional tutors, you can smoothly ace the exam!
Pass the CCNP 300-810 exam in the first try with SPOTO 100% pass dump!

Here is the 300-810 exam demo, and you can test yourself now!
NEW QUESTION 1
Which authentication method allows a user to log in to an SSO-enabled Cisco Unified Communications application utilizing a Microsoft Windows login, thereby not requiring any credentials to be entered?
A. Smart Card
B. OAuth
C. form-based
D. Kerberos
Correct Answer: B
NEW QUESTION 2
When Cisco IM and Presence is configured to use automatic fallback, how long does the Server Recovery Manager service wait for a failed service/server to remain active before an automatic fallback is initiated?
A. 10 minutes
B.20 minutes
C. 30 minutes
D. 1 hour
Correct Answer: C
NEW QUESTION 3
Which entity is a standard component used for authentication
by SAML 2.0?
A. identity provider
B. session broker
C. Internet service provider
D. client access server
Correct Answer: A
NEW QUESTION 4
Which two command-line arguments can you specify when installing Cisco Jabber for windows?
(Choose two.)
A. CISCO_UDS_DOMAIN
B. TFTP_ADDRESS
C. VOICEMAIL_SERVER_ADDRESS
D. SERVICES_DOMAIN
E. TFTP
Correct Answer: DE
NEW QUESTION 5
Which description of an IdP server is true?
A. authenticates user credentials
B. provides user authorization
C. is an authentication request that is generated by a Cisco Unified Communications application
D. consists of pieces of security information that are transferred to the service provider for user authentication
Correct Answer: D
NEW QUESTION 6
Which function of the Cisco IM and Presence high availability
is the solution right?
A. When the server has been restored to a normal state, user sessions remain on the backup server.
B. When an event occurs, the end-user sessions are not moved from the failed server to the backup.
C. When the server has been restored, the server automatically fails back.
D. When a high availability event takes place, the end-user sessions are moved from the failed server to the backup.
Correct Answer: D
NEW QUESTION 7
Which Cisco IM and Presence service must be activated and running for IM Presence to integrate with Cisco Unified Communications Manager successfully?
A. Cisco DHCP Monitor Service
B. Cisco AXL Web Service
C. Self-Provisioning IVR
D. Cisco XCP Authentication Service
Correct Answer: A
NEW QUESTION 8
Which two methods does Cisco Jabber use for contact searching in an on-premises deployment model? (Choose two.)
A. HTTP
B. XMPP
C. UDS
D. LDAP
E. SIP
Correct Answer: CD
NEW QUESTION 9
What is the maximum number of Cisco Unity Connection locations connected in an HTTPS network?
A. 50
B. 25
C. 200
D. 10
Correct Answer: B
NEW QUESTION 10
What is the primary mechanism in Cisco Unity Connection that is used for toll fraud prevention?
A. restriction tables
B. fraud tables
C. transfer rules
D. calling search spaces
Correct Answer: A
Latest 300-810 Passing Report from SPOTO candidates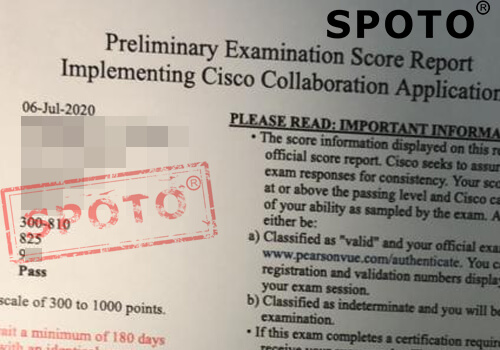 Why you need SPOTO CCNP 300-810 Exam Dumps?
SPOTO 300-810 dump 100% cover the real exam.
100% pass rate in the first try
Free update dumps regularly to keep up with the latest exam trends.
Online professional tutors will solve all your problems.
Free service extension in case of failure
Get SPOTO 100% pass CCNP 300-810 exam dumps to get CCNP certified in 7 days!

Read more:
Please follow and like us: