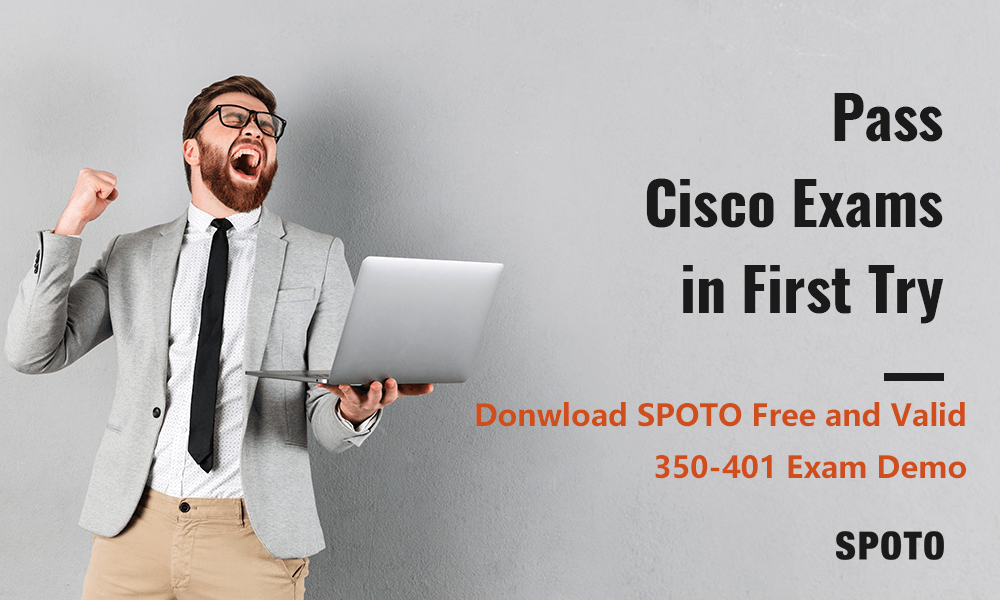 Passing the Cisco 350-401 Practice Tests is the essential path to obtain the CCNP Enterprise certification. For candidates who are afraid of failing, it is quite reasonable as taking the 350-401 exam may spend lots of money, time, and even energy. However, with SPOTO dumps, you don't need to worry at all. SPOTO offers 100% real and valid CCNP 350-401 exam questions and answers for you to pass the 350-401 exam on the first try. With SPOTO valid and authentic dumps and technical support from our professional tutors, clearing your exam would be a piece of cake!  
Get SPOTO 100% pass dump to pass the CCNP 350-401 exam in one week!
Categories
Exam Code
100% Pass Dumps
CCNP Enterprise
350-401 ENCOR
300-410 ENARSI
300-415 ENSDWI
300-420 ENSLD
300-425 ENWLSD
300-430 ENWLSI
300-435 ENAUTO

Try the 350-401 exam demo below to test your self! or Click here to test your preparation for the 350-401 exam online!
NEW QUESTION 1
Which HTTP status code is the correct response for a request with an incorrect password applied to a REST API session?
A. HTTP Status Code: 200
B.HTTP Status Code: 302
C.HTTP Status Code: 401
D. HTTP Status Code: 504
Correct Answer: C
NEW QUESTION 2
Which statement about multicast RPs is true?
A. RPs are required only when using protocol independent multicast dense mode.
B. RPs are required for protocol-independent multicast sparse mode and compact mode.
C. By default, the RP is needed periodically to maintain sessions with sources and receivers.
D. By default, the RP is required only to start new sessions with sources and receivers.
Correct Answer: D
NEW QUESTION 3
To increase total throughput and redundancy on the wireless controller and switch links, the customer enabled LAG on the wireless controller.
Which EtherChannel mode must be configured on the switch to allow the WLC to connect?
A. Active
B. Passive
C. On
D. Auto
Correct Answer: C
NEW QUESTION 4
Which feature does Cisco TrustSec use to provide scalable, secure communication throughout a network?
A. security group tag ACL assigned to each port on a switch
www.vceplus.com – Free Questions & Answers – Online Courses – Convert VCE to PDF – VCEplus.com
B. security group tag number assigned to each user on a switch
C. security group tag number assigned to each port on a network
D. security group tag ACL assigned to each router on a network
Correct Answer: B
NEW QUESTION 5
An engineer configures a WLAN with a fast transition enabled. Some legacy clients fail to connect to this WLAN. Which feature allows the legacy clients to connect while still allowing other clients to use quick change based on their OUIs?
A. over the DS
B. 802.11k
C. adaptive R
D. 802.11v
Correct Answer: C
NEW QUESTION 6
A network administrator implements a routing configuration change and enables routing debugs to track routing behavior during the transition. The logging output on the terminal is interrupting the command typing process.
Which two actions can the network administrator take to minimize the possibility of typing commands incorrectly? (Choose two.)
A. Configure the logging synchronous global configuration command.
B. Configure the synchronous logging command under the vty.
C. Increase the number of lines on the screen using the terminal length command.
D. Configure the logging delimiter feature.
E. Press the TAB key to reprint the command in a new line.
Correct Answer: AB
NEW QUESTION 7
Which two pieces of information are necessary to compute
SNR? (Choose two.)
A. transmit power
B. noise floor
C. EIRPD. RSSI
E. antenna gain
Correct Answer: AB
NEW QUESTION 8
Which statements are used for error handling in Python?
A. try/catch
B. catch/release
C. block/rescue
D. try/except
Correct Answer: D
NEW QUESTION 9
What are two benefits of virtualizing the server with the use of VMs in a data center environment? (Choose two.)
A. reduced rack space, power, and cooling requirements
B. smaller Layer 2 domain
C. increased security
D. speedy deployment
E. reduced IP and MAC address requirements
Correct Answer: AD
NEW QUESTION 10
Which two steps are required for a complete Cisco DNA Center upgrade? (Choose two.)
A. automation backup
B. system update
C. golden image selection
D. proxy configuration
E. application updates
Correct Answer: AB
Why you need SPOTO CCNP 350-401 Exam Dumps?
SPOTO dumps 100% to cover the real exam.
Free update dumps regularly to keep up with the latest exam trends.
Online professional tutors will solve all your problems.
Free service extension in case of failure
100% pass rate. How proud we are to say that most of them passed their exams successfully in the first try.


Latest passing report-100% pass guarantee
Recommend CCNP 350-401 Exam Study Materials:
Please follow and like us: