It's important to use accurate exam materials if you want to pass CISSP certification exam at first try. The accuracy and valid of exam questions and answers are guaranteed by IT Certified Experts. CISSP exam dump covers all topics of the real exam.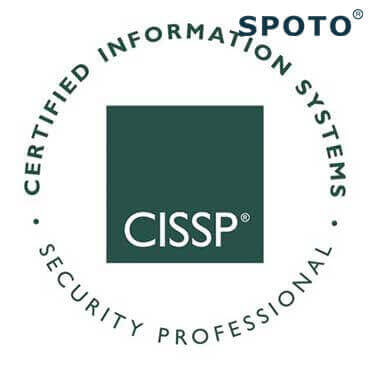 CISSP Exam Information
Certification Provider: ISC2
Certification Exam Name: CISSP
Update Date:Mar 29, 2020
Special Dicount
Get special offers
Latest Dump
Numbers of Question & Answers
Product Advantages
100% Accurate Questions
Real Exam Environment
VIP service team Support
Average 5 Days to Practice & Pass
Update Timely
100% Cover Real Exam
Latest Exam Feedbacks
7/24 Online Technical Support
16 Years of IT training Experience
1.What is a use for Mandatory Access Control (MAC)?
A. Allows for labeling of sensitive user accounts for access control
B. Allows for mandatory user identity and passwords based on sensitivity
C. Allows for object security based on sensitivity represented by a label
D. Allows for mandatory system administrator access control over objects
Correct Answer: C
Explanation/Reference: Even if the owner determines a user has the need to know, the system must ascertain that the user is cleared, or no access will be allowed. To accomplish this, data needs to be labeled as to its classification, allowing specific controls to be applied based on that classification.
2.Ensuring all key stakeholders have a common understanding of security implications, considerations, and requirements as well as outlining key security milestones occurs in which phase of the Software Development Life Cycle (SDLC)?
A. Development
B. Implementation
C. Operation
D. Initiation
Correct Answer: D
Explanation/Reference: The security professional's mental checklist during the project initiation phase should include topics such as: Does particular information have special value or sensitivity, and therefore require special protection? Does the application or software package being used to access the data itself have proprietary functionality or intellectual property that will need to be safeguarded separate from the data it is processing?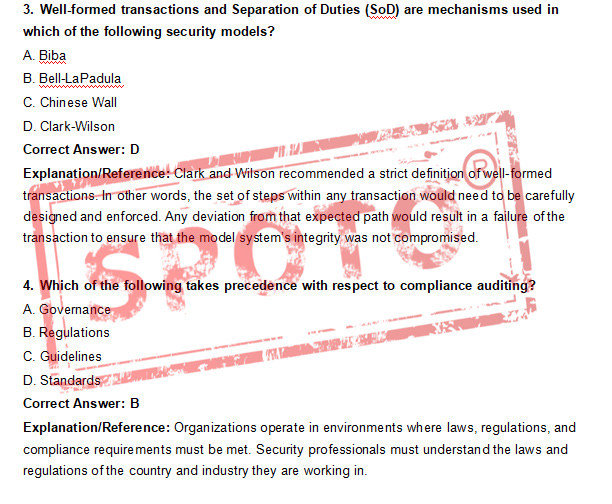 What is CISSP Certification?
Certified Information Systems Security Professional (CISSP) is an information security certification developed by the International Information Systems Security Certification Consortium, also known as (ISC)². The CISSP designation is a globally recognized, vendor-neutral standard for attesting to an IT security professional's technical skills and experience in implementing and managing a security program. The CISSP is a certification sought by IT professionals with job titles such as security auditor, security systems engineer, security architect and chief information security officer, among others.
(ISC)²'s CISSP Exam covers 8 domains in 2019:
Security and Risk Management.
Asset Security.
Security Engineering.
Communications & Network Security.
Identity & Access Management.
Security Assessment & Testing.
Security Operations.
Software Development Security.
Why they Choose SPOTO CISSP Dumps?
If you are one of the candidates for the following ISC2 CISSP dumps,SPOTO CISSP Dumps is definitely the best place for your CISSP exam preparation. Our customers speak highly of the ISC2 CISSP exam dumps. They cover all the topics that may appear in the ISC2 Certified Information Systems Security Professional (CISSP) actual exam. The ISC2 CISSP practice questions, along with detailed answers, are not only beneficial to the ISC2 certification exam but also conducive to your office work.
The perfect ISC2 CISSP dumps from SPOTO are conducted to make well preparation for your exam and get the desired result. SPOTO CISSP dump contains actual ISC2 CISSP exam questions and study guide, which simulates the real ISC2 CISSP exam, to ensure you pass ISC2 exam successfully. Free Download CISSP dumps Demo available before purchase, you can download CISSP dumps Demo free and try it. The whole CISSP braindumps are available for downloading if you purchase them. You can enjoy one year free updates from the date of buying.
CISSP or Certified Information System Security Professional is a globally recognized certification offered by ISC2 (International Information Systems Security Certification Consortium. The certification confirms the candidate's ability and expertise in all fields of information security. These are the professionals who are better capable to define the design, architecture, controls and management of highly secure business environments.
How to Purchase CISSP Dump?
Please contact our service after you confirm our service policy, service will send the PayPal invoice or Western Union account to you to pay CISSP Dump. Please remind service after you complete your payment, and the valid CISSP dump materials will be sent you.
What kind of Materials Can I Receive after Payment?
We will provide software and setup instructions, dump practice account, and study plan after we confirm your payment.
How long Is the Service?
The service length is two months. In case you failed at your first attempt within service time, we will provide one month for free after you share your failure screenshot (name, date, score).
Please note: we will end the service three days after your exam date if we were not notified of your free extension request. We reserve the rights to terminate all the services in case we learned you shared our materials with others.
What happens if the exam becomes unstable?
We will keep you updated with the latest exam information. If there are any big changes in the exam during your service time, we will remain the left service time until dump is ready. Although we helped thousands of candidates passed the exam and share high pass rate, we do not guarantee 100% pass or refund.
How to Verify my version of the Questions and Answers Product?
If there is an update on dumps, our service will inform you by email and the server also will warm you when you practice dump.
How often are your products updated?
There is NO FIXED DATE for the update of Exams. All cciedump.spoto.net Products are reviewed by Product Manager on weekly basis and if any certification vendor changes the question in the exam our product will be updated accordingly.
What Is the Dump Format?
CISSP dumps are VCE format. You can practice questions and answers on VCE.
I have paid for my Product when can I get my product?
If the payment was successful, we will send the access to your product via Email within eight hours after confirmation.
How Can I practice Dump?
You can practice questions and answers of VCE dump on a remote server and view questions and answers of PDF dump on your PC / phone/ pad
What ways can I choose to pay for the order?
SPOTO is accepting payments in many ways. The most popular one is Paying instantly through PayPal and Western Union. We recommend PayPal for faster payment. Your purchase with SPOTO is safe and fast. Our SPOTO website is protected by 256-bit SSL from Cloudflare, the leader in online security. 
How can I get Discount?
Special Discount is offered for popular certifications and exams. If you want to buy three or more products, please contact support@spoto.net for getting discount.
Can a third party see your customers' information from your website?
No,they cannot. Our system is fully secured, and we do not share any information with third partied. 
I took the exam today and failed what can I do?
If you fail the exam at the first attempt, then you can claim free extend to prepare your exam. Service will extend your service after confirming your next exam date.
CCNP Data Center Written

03.26, 2020

CCNP SP Written

03.25, 2020

CCNA CCNA Other Written

03.24, 2020

Other Other Written

03.24, 2020

CCNA DevNet Written

03.21, 2020