Latest Passing Reports from SPOTO Candidates
CCIE DC Lab Exam Info-Fully Prepare Exam With SPOTO
The Cisco CCIE Data Center (v3.0) Practical Exam is an eight-hour, hands-on exam that requires a candidate to plan, design, deploy, operate, and optimize complex Data Center networks. SPOTO offers latest & updated CCIE DC Lab Exam Workbook and Solutions for candidates to fully prepare CCIE DC Lab exam. You can pass your CCIE DC Lab exam in the first attempt by using SPOTO CCIE DC Lab study materials if you work hard and practice more.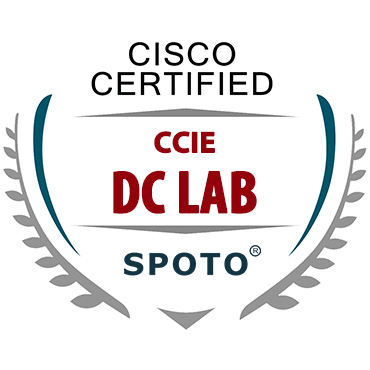 Exam Code: CCIE DC Lab
Exam Fee: $1,600
Exam Duration: 8 hours
Validity Period: 3 years

Major topics of CCIE DC Lab Exam:
1.Data Center L2/L3 Connectivity (20%)
2.Data Center Fabric Infrastructure (15%)
3.Data Center Fabric Connectivity (15%)
4.Data Center Compute (15%)
5.Data Center Storage Protocols and Features (10%)
6.Data Center Security and Network Services (10%)
7.Data Center Automation and Orchestration (15%)

Cisco certifications are considered the most credible and attractive of all certifications. To meet the fast changes in technology several Cisco certifications on the expert level have been modified. For example, the CCIE certification exam is now composed of two parts: the CCNP/CCIE core exam and a concentration exam of your choice. Those that decide to focus on the CCIE data center must take the CCIE data center lab exam after passing the core exam before they can get their badge. A CCIE data center certificate would mean that you have passed the written exam as well as the CCIE data center lab exam, which is the toughest among all exams.
Benefits of CCIE Data Center Certification
Preparing for the CCIE data center lab exam will require you to invest time, money, and effort for this undertaking. However, all the hard work will be worth it since the certification can bring you several benefits:
Getting recognized as an expert in the field of networking
As a holder of the CCIE Data Center certification, you will be recognized as an expert in Data Center technology. With your deep knowledge and skills in data center networking, you can get work anywhere in the world and effectively apply your expertise in meeting the demands f an ever-changing scenarios in the field of networking technology.
Unlimited job opportunities
After receiving your CCIE Data Center certification, you will be amazed at the number of job offers that will come your way. Data centers will be in the highest demand as the world moves into the datacenter technologies. Many companies and organizations will need your knowledge and skills in planning, designing, implementing, troubleshooting, and maintaining data center networks. Many positions will be open for you. You can apply for key positions in major companies and organizations.
Gaining knowledge of the latest technology
Training for certification exams will expose you to the latest technologies and update you with the changes in technology. Your advanced knowledge will make employers give you bigger responsibilities and key positions in the company. You will have the chance to be sent to other branches of a company that has problems in adopting and implementing the latest changes in the field of data center technologies.
Increased Earnings
The CCIE Data Center certification is one of the most sought-after Cisco badges because it is one of the highest-paid IT professions, with an annual income of more than $100,000. The highest-paid position is that of a Solutions Architect at an average of $144 per year. With this kind of income, one can say that passing the CCIE data center lab exam is worth all your time, effort, and expense.
How to Get CCIE Data Center Certification Fast
On way to pass the CCIE data center lab exam and get the valuable certification is by taking online certification training courses at SPOTO, the leader in the industry since 2003. We offer CCIE Data Center lab exam dumps, which include 100% real and valid questions with verified answers. SPOTO has produced thousands of Cisco certification holders who passed the exam on the first try.
We have tutors who can help candidates solve difficult questions and explain to them the process until they can arrive at the correct answer. The CCIE data center lab exam dumps allow test-takers to study in a real lab environment.
About the Exam
The CCIE data center lab exam is the second part of the two exams that a candidate for CCIE certification must take to get the CCIE Data Center certification. The first part is the core exam. The CCIE data center lab exam is a hands-on exam that lasts for eight hours. The exam costs S1,600.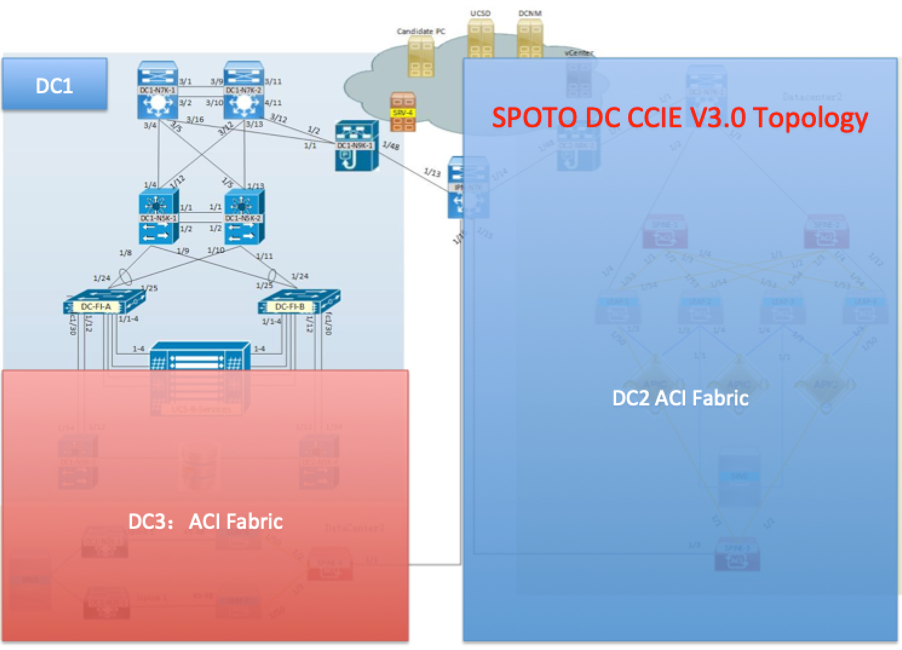 This is the material content that you need practice. You will face them when you take exam.
Design: Design 1
Deploy & Operate & Optimize:LAB1

This is CCIE DC LAB v3.0 study plan, it is a suggestion.
If you can spend 2-4 hours on lab practice per day, you can take exam after 2 months.
We provide 3 months service time, you can follow your time to practice, it is flexible.

Rack Service: offer rack to practice, the rack includes IOS, init configuration, etc.
Study Materials: Workbook, Solutions, Instruction Video, Study Plan.
We delivered the materials stage by stage:
stage 1:NXOS:Section 1.1~1.8
stage 2:UCS:Section 2.1-2.7
stage 3:ACI:Section 3.1~3.8

1. How soon can I receive the CCIE DC lab exam learning materials?
The followings will be sent to your email no later than 8 hours after verification of your payment.
Software and setup instructions
Learning Materials, including Workbook, Solutions and Instruction Video.
Study Plan
2. How long is my service period?
Our standard service period is 3 months.
3. Is the environment of the rack practice the same as the examination?
The environment in which you practice on the rack is the same as the real lab exam.
4. How to open CCIE DC Lab exam workbook and solution?
All of the workbook and solution are encrypted documents, it only allows one pc to open it. We will send a guide to tell you how to open the workbook and solution. It supports windows operating system and mac operating system
5. What happens if the exam becomes unstable?
We make sure you will receive updated information and materials as soon as we learned any changes to the exam. In case we learned any major changes happened during your service period, your remaining service period will be calculated from the date we learned the exam becomes stable again.
IT Training Leader for 18 Years
SPOTO, an outstanding IT training Institute with 18-year experience, has assisted thousands of candidates to pass their dream IT exams in first try. Our candidates speak highly of quality practice tests & outstanding service.
7/24 Professional Technical Support
To help SPOTO candidates well prepared exam, we have professional tutors to provide 7/24 online technical support to ensure candidates solve any problems at any time.
Latest & 100% Pass Exam Solutions
Our solutions cover 100% real pass exam answers and questions and exam practice tests. SPOTO will update the exam solutions timely and our product manager will ensure the accuracy and stability of exam solutions to help you 100% pass exam.
Get Limited Time Offer
Pass Your IT Certification Exams in the First Attempt With SPOTO!
SPOTO offers 100% real and valid IT exam dumps, 100% same with the real exam. SPOTO, the leader of IT certification online training for 17 years, has helped 2100+ candidates to get their Cisco CCIE certifications. Our products cover Cisco, CCIE Lab, PMP, ISACA, Amazon Aws, Palo Alto, Microsoft and other IT exams. With SPOTO real IT exam practice tests, you can boost salary and advance your IT networking career fast!
The CCIE DC LAB content is rich and the answers are accurate, so this material is enough for you to pass the exam. Try your best and do everything carefully.
I studied this CCIE DC LAB material carefully and took every question seriously. At last, I passed the exam with high score. Prepare well and study much more.
Their CCIE DC LAB dump is a very recent update. All the new questions are there! Recommend.
Very valid CCIE DC lab exam dumps. I just passed the exam with very good scores. Thanks, SPOTO.