SPOTO will provide some new services and strategies with CCIE RS lab certification exam candidates in order to make them pass the exam in the first try better. The following is the details of new strategies.
1. Paid & Prepare now
We provide CCIE RS Lab v5.0 service until 23 Feb 2020. If you can not book the CCIE RS LAB exam slot before 23 Feb 2020, we will give you 1 month service period in the new CCIE LAB exam for free.
2. Paid Now & Prepare after 23 Feb 2020
If you paid now, you can get the exclusive price .
If you buy after 23 Feb 2020, the lab price will be 66.66% higher than the exclusive price.
Briefly speaking, it's the best time to take and prepare for the CCIE RS lab exam before the Cisco changes in programs. Because the exam will become more difficult in the future. if you have any questions or want to book the exam slots, and you can contact us.

Besides, SPOTO will host more special activities, and you can contact us to get the details.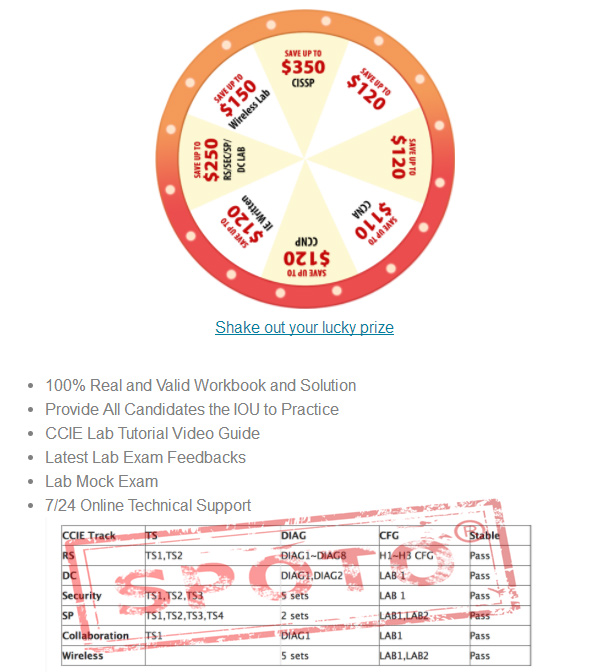 More Recommended Articles
1. How You Shouldn't Pass the CCIE LAB Exam - Routing & Switching V5
2. How to Check the CCIE Lab Result?
3. Is the Time of Preparing for the CCIE Lab Exam Enough Before the Cisco Changes?
4. How Much Sleep Do You Need Before the CCIE Lab Exam?
5. Is CCIE Lab Certification Exam Stable Before Cisco Changes in 2020?